Israeli hospital pilots virus-neutralizing sticker for masks to combat corona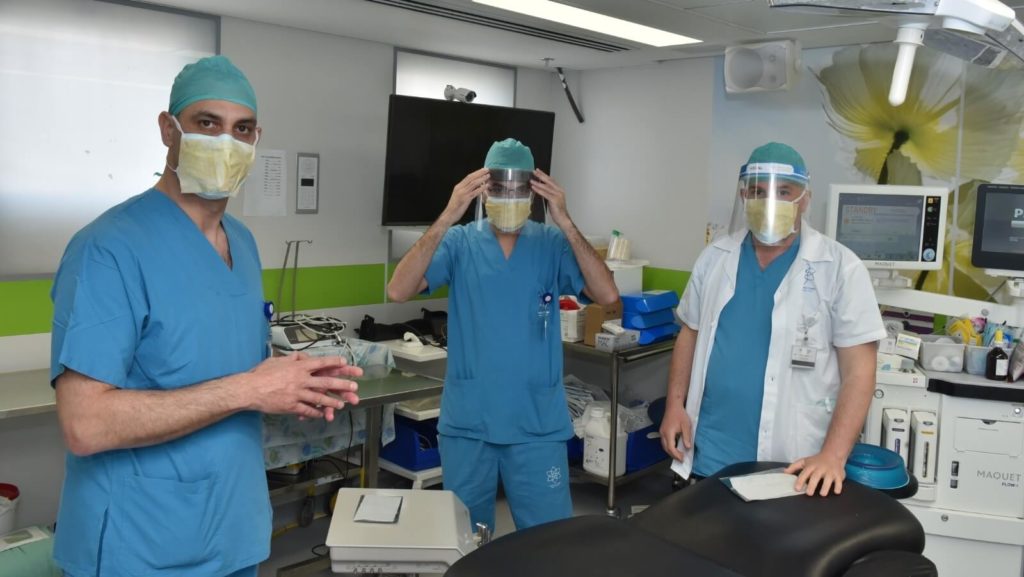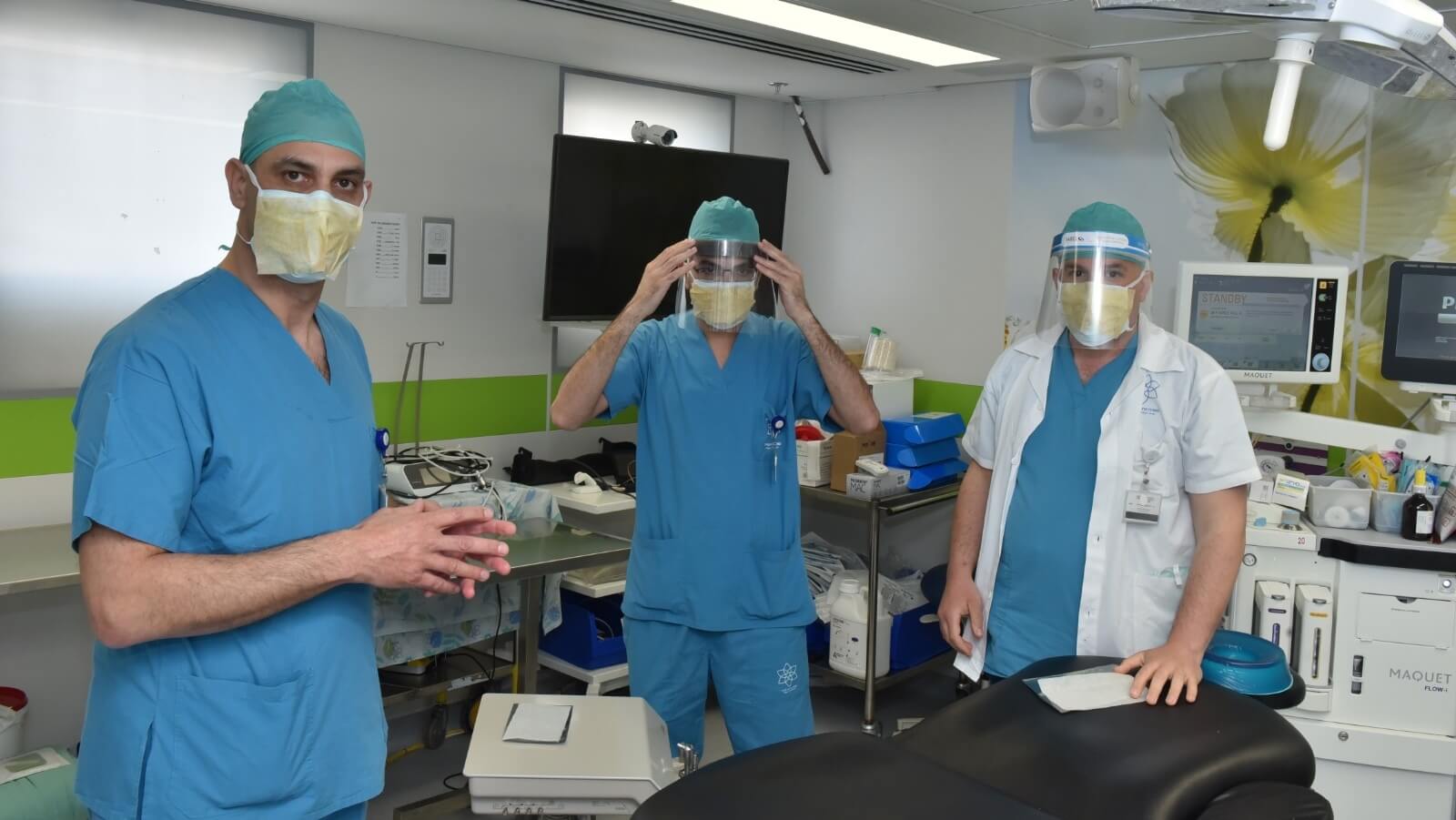 In bid to protect medical staff during coronavirus outbreak, Galilee Medical Center pilots a facemask sticker to catch and kill virus nanoparticles.
Article published at www.jisrael21c.org on April 02, 2020.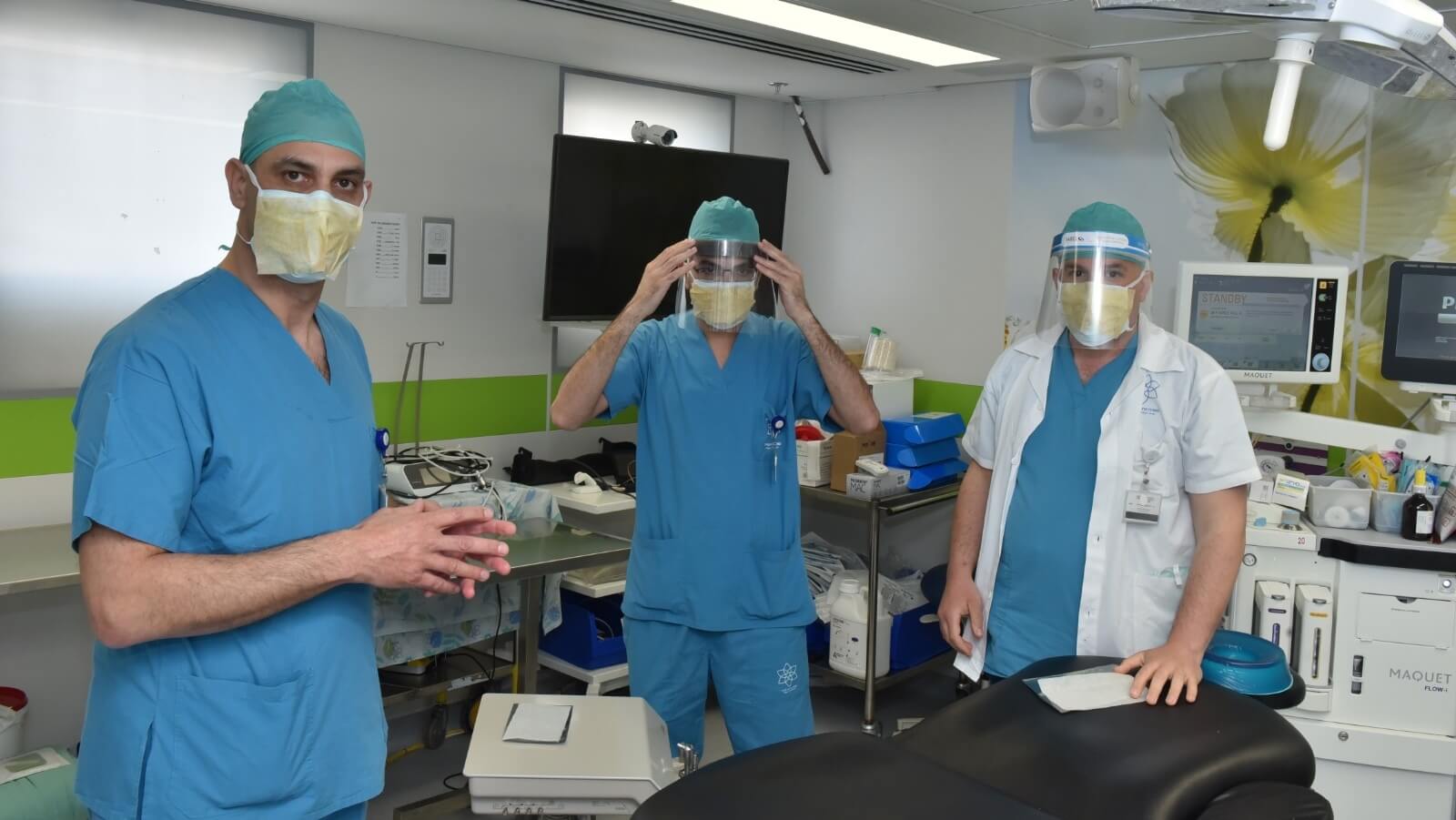 Dr. Samer Srouji, left, and members of his oral & maxillofacial surgery team at Galilee Medical Center testing the Maya sticker on their surgical masks. Photo by Eli Cohen
Israel's Galilee Medical Center is piloting a virus-neutralizing sticker that attaches to surgical masks to better protect medical staff during the corona crisis.
The 3D-printed "Maya" sticker was developed at the Technion-Israel Institute of Technology by a mechanical engineering team led by Prof. Eyal Zussman. The sticker contains nanofibers that capture nanoparticles, and disinfectants believed capable of killing any viruses in those nanoparticles.
he Technion team worked in coordination with Prof. Samer Srouji, director of the medical center's Oral and Maxillofacial Surgery Department and Oral Medicine & Dentistry Institute; and in collaboration with the Directorate of Defense Research and Development of Israel's Ministry of Defense.
Israel's Ministry of Health has given initial approval for the 723-bed government-owned hospital to trial the unique sticker.
"This is a fast and available solution, using advanced technologies. We are excited to launch a pilot at the medical center to test adaptation of the sticker by the medical staff," said Srouji.
Dr. Masad Barhoum, general director of the Galilee Medical Center, said that if the Maya sticker meets expectations in protecting healthcare professionals against infection, the medical center will recommend it to other hospitals in Israel and abroad.
Deputy Director General Dr. Tsvi Sheleg tells ISRAEL21c that the hospital also devised a special transparent PVC box that better protects anesthesiologists when they intubate COVID-19 patients.
"We have a prototype and are building 100 of them. Once it is in medical use we will advise it to other hospitals because I think it is a crucial low-tech application that can help physicians."