Welcome to the Technion UK Israel Trip 2022
Day 5
Shuli Shwartz – Drive Technion Accelerator
Shuli Shwartz gave an overview of the Entrepreneurship and Innovation Ecosystem at the Technion which includes the Four Pillars: t-hub, The Knowledge Center for Innovation at the Technion, Technion Technology Transfer and the Technion Drive Accelerator.
The group heard how the Technion encouraged students not just to study but to think in an entrepreneurial way. All students at the Technion are offered an entrepreneurial course to take.
---
Meeting British council director at British Ambassador's residence.
Jonathan Shor, the Director of the British Council Israel, shared a few interesting facts and statistics about Israel and the UK's cooperation in such areas as Higher Eduction & Science, Arts, Culture and the English language. Jonathan also shared interesting facts about BIRAX (the Britain Israel Research and Academic Exchange Partnership) which is a £multi-million initiative of the British Council and the British Embassy in Israel, together with the Pears Foundation, investing in world-leading research jointly undertaken by scientists in Britain and Israel.
---
Day 5 Album
---
Day 4
Elbit Systems
Our first stop on day 4 was at Elbit Systems. They are an International high tech company engaged in a wide range of programmes throughout the world, primarily in the defence and homeland security arenas. They develop and supply a broad portfolio of airborne, land and naval systems and products for defence, homeland security and commercial applications.
Elbit Systems partners with the USA, the UK and some European countries amongst others. Elbit Systems also provides strong support to Israel's defence. This company has an annual revenue of US$5.2B and invest a staggeringly high amount of more than half a billion dollars a year in R&D.
For obvious security reasons, we were not allowed to photograph or video record out visit.
---
Clandestine Immigration and Navy Museum – Haifa
This museum records the military naval history of the State of Israel from the days of clandestine immigration during the British Mandate. It also displays the direct connection between clandestine immigration, the Palyam (the naval platoon of the Palmach) and the naval service of the Haganah, prior to the establishment of the State, and the establishment of the Israeli Navy and its operation since its early days until today.
The group watched some incredibly interesting films that showed clearly how people who were escaping after the Second World War and wanted to come to Israel, gave their lives to do so. At that time Britain had a mandate in that area and made it illegal for refugees to enter Israel, despite their desperate circumstances.
Many of the thousands of illegal Jewish immigrants were captured by the British and interned in detention camps in Israel and Cyprus.
Many of these detainees were trained by the Palmach whilst in these camps and later became the first soldiers and navy of the Israeli army.
We leant a great deal about Israel's clandestine immigration and naval history during our private tour.
The group were able to go onto the last boat ever captured by the British.
---
Professor Shlomo Maital and Rafi Nave
We heard from Shlomo Maital, a professor emeritus at Technion and Rafi Nave, a leader in Israeli entrepreneurship and applied technologies with lifelong ties to the Technion.
Professor Shlomo Maital and Rafi Nave were sharing some insights into their book "Aspiration, Inspiration and Perspiration", and how Technion graduates merge creativity with technology to change the world.
They spoke about a company called Insightec, a company connected to the Technion which helps people who have tremors and Parkinson's. One of the group who has tremors was very excited to hear about this and we have found a hospital in London that uses the Insightec technology who he will be meeting with on his return to the UK.
---
Juludan Prize Giving Ceremony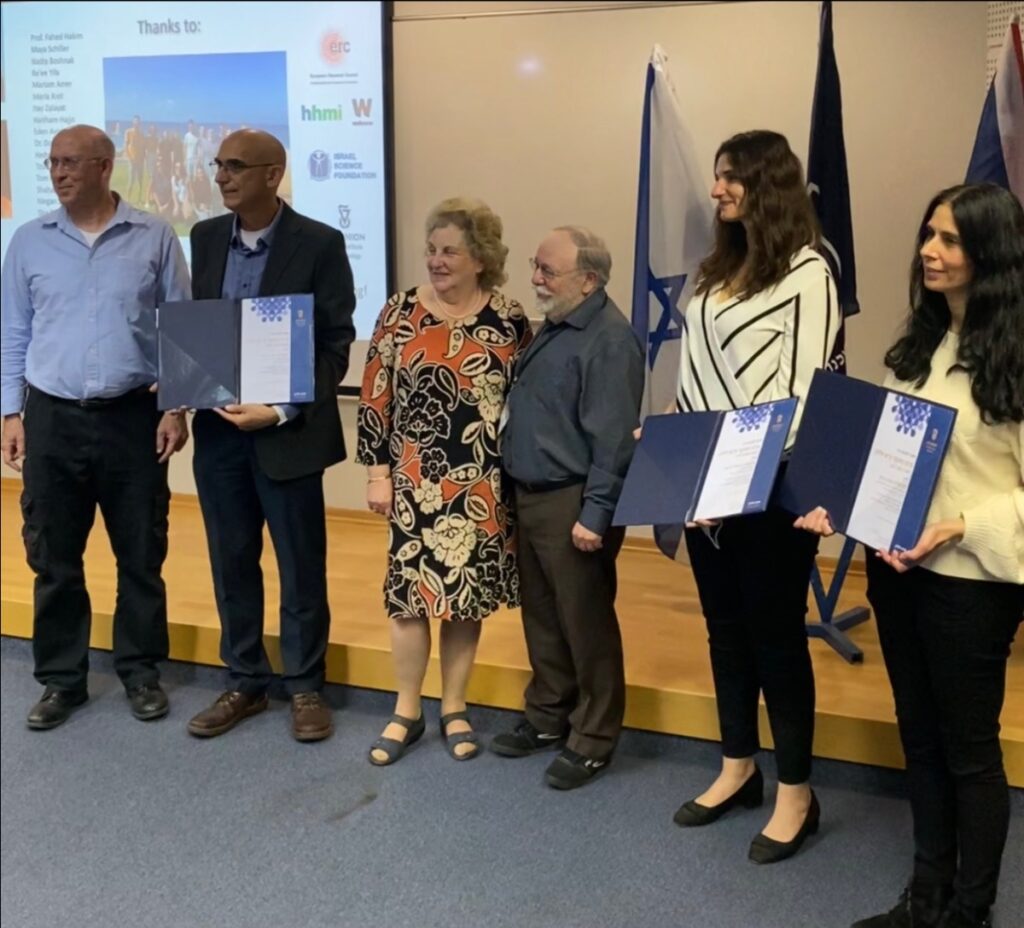 ---
Uri Sivan the 17th President of the Technion
Uri Sivan, an Israeli physicist, is the 17th President of the Technion welcomed our delegation in Technion and congratulated the Juludan Prize winners. President Sivan also shared Technion's future strategic plans of exploring philosophy and art in Technion.
---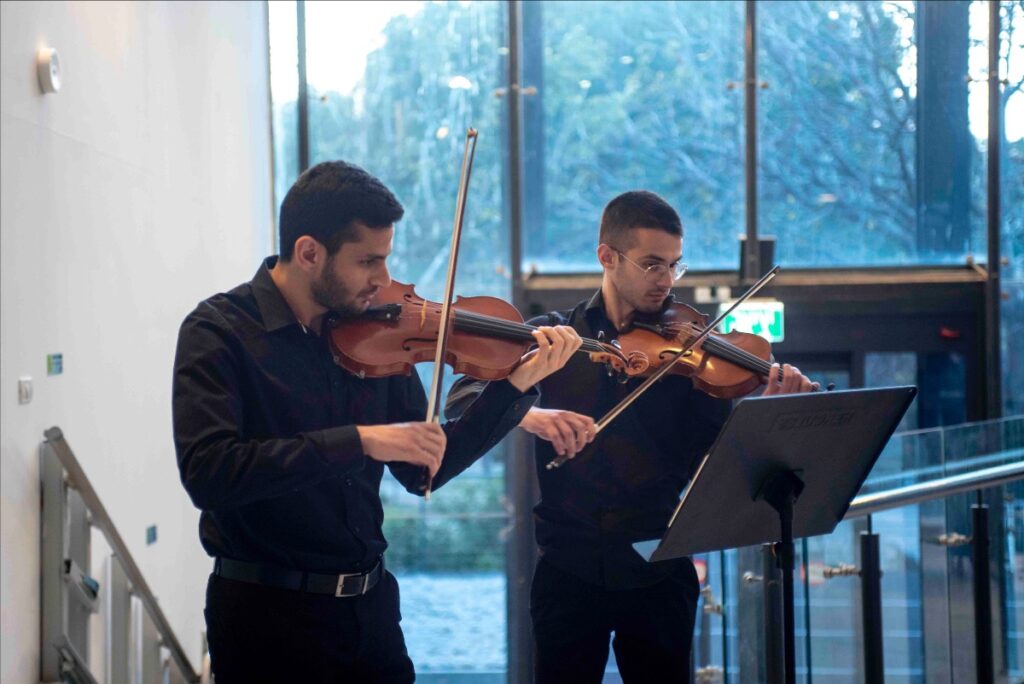 ---
Day 4 Album
Photo courtesy of Adrian Korsner
---
Day 3
Madatech Museum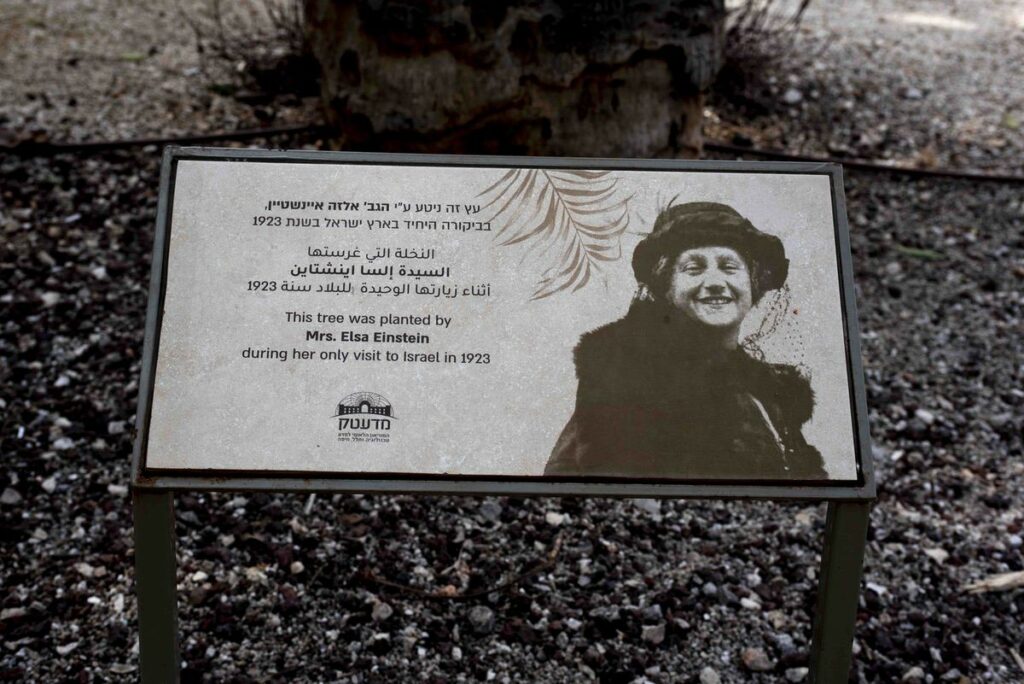 MadaTech was the original building of the Technion. On April 12, 1912 the Cornerstone of the Technikum (later changed to Technion) – a new technological education institute, was established.
Established in 1983, MadaTech Museum was housed in the historic landmark, "Technion building", located at the heart of a 7 acre green campus in mid-town Haifa. The campus also features the Northern Garden, where the palm tree planted by Professor Einstein and Mrs Einstein in 1923 still stands.

MadaTech stands out as an excellent education and cultural centre and as leader of museum based and scientific education as well as culture in Israel. It arouses curiosity and creativity amongst young people and motivates them to learn, investigate and consider a profession in science and technology.
---
Technion Visitors Centre Tour
The group experienced a wonderful tour of the visitor centre which incorporates a 360 degree cinema and museum exhibits. During lunch the group met some students including Rani, a Druze student in his first year of 5 years which will include his army service, and Benamin, a first year Ethiopian student.
---
Abi Newman
We met a PhD student at the Technion who came to the university from Imperial Collage in the UK to do her undergraduate 4 years ago. She works in the laboratory of Shulamit Levenberg and is focused on tissue engineering. We were fortunate to listen to a lecture given by Abi, after which she gave us a tour of her laboratory.
---
Professor Peretz Lavie – was a former President of the Technion
Professor Lavie was the president of the Technion – Israel Institute of Technology of 3 consecutive terms until 2019. He set up a sleep research laboratory, which was then the first laboratory to diagnose sleep disorders. Now called the Center for Sleep Medicine, it currently has four branches in Israeli hospitals. Through these research facilities, over 120,000 people have been tested.
Professor Lavie's Technion Presidency witnessed the reception by Technion of its 3rd Nobel Prize in Science. In 2011, the Nobel Prize in Chemistry was awarded to Prof. Dan Shechtman for the discovery of quasicrystals. He was succeeded as President by Uri Sivan who is still the current President. Professor Lavie explained to the group some of the highlights of his tenure, especially the establishment of a campus in Guangdong in China and a joint campus in New York at Cornell University.

We also learnt some key facts regarding sleep apnea and were told that the optimal number of hours to sleep is from 7 to 8,5 hours.
---
Dinner at Druze Village
In the evening we visited a Druze village called Isafiya. The Israeli Druze are a religious and ethnic minority among Arab citizens of Israel. In 2019, there were 143,000 Druze living in Israel and the Golan Heights, 1.6% of the total population of Israel and the Golan Heights. Even though the faith originally developed out of Ismaili Islam, Druze do not identify as Muslims. In 1957, the Israeli government designated the Druze a distinct ethnic community at the request of its communal leaders. The Druze are Arabic-speaking citizens of Israel who serve in the Israel Defense Forces. Members of the community have attained top positions in Israeli politics and public service. Before the establishment of the State of Israel, the Druze were not recognised as a religious community, and were discriminated against by the judicial system. They live mainly in the north of the country.
We enjoyed a delicious traditional Druze dinner and received a briefing from Dr Anan Wahabi, who is a reserved Colonel in the Israel Defence Forces. Anan explained to the group about the history of his community and spoke about the loyalty of the Druze community in Israel.
---
Day 3 Album
Photo courtesy of Adrian Korsner
---
Day 2
Welcome to day 2 of the Technion UK Virtual Trip to Israel 🇮🇱. Here is a short update on the events that took place today during our 2nd day of travelling in Israel. We are sorry that you cannot be with us this time, but hopefully the next trip.
Efraim Halevy
Efraim Halevy was born 2 December 1934. He moved to Israel and went on to become an Intelligence expert and diplomat. He was the 9th director of Mossad and the 3rd head of the Israeli National Security Council.
Efraim Halevy shared his achievements during his career in Mossad and Israeli National Security Council. He also shared his opinion on global current affairs, including some of his meetings with world leaders, such as King Hussain of Jordan and other Arab leaders.
---
Carmel Market – Food tasting tour.
The Carmel Market first opened in 1920, some eleven years after the establishment of the city. It is an integral part of the history of Tel Aviv. Our group had an amazing food tour visiting delicious food stalls and having food tastings. We met some very interesting vendors, some of whom have been at the market for more then 20 years.
---
StoreDot – Startup
StoreDot is a cutting edge pioneer startup that is focusing on the extreme-fast charging batteries. Their aim in the coming decade is to take fast charging of electric vehicle batteries to the same time it take to fuel combustion engine vehicles.
StoreDot.Ltd is a battery developer and materials innovation leader, developing ground-breaking battery technologies based on the design and synthesis of both organic and inorganic compounds. Replacing known materials and technologies with enhanced electro-chemical properties, StoreDot's prorietyary compounds, conbined with nano-materials, are optimized for Extreme Fast Charging – XFC of electric vehicles.
---
SpacePharma – Startup
SpacePharma's mission is to leverage the miniaturised microgravity lab technology sized as a 'shoebox', enabling unprecedented possibilities to develop new drugs in space. This allows many companies to carry out R&D in close to zero gravity environment. For example, it allows researchers to experiment growing of cells in not just 2 dimensions, but in 3 dimensions when there is no gravity pulling down the substances. SpacePharma enables all this at a fraction of the costs, with higher success rates than experiments conducted with traditional research methods which previously required cosmonaut-scientists engaged in the research in person in the space. Now, it is possible to send a 'shoebox' lab to space and carry out the research remotely from earth. They are aiming to bring a positive impact of millions of lives here on earth.
---
Evening event at a private villa with live entertainment
"Yonina" (a combination of their names -Yoni and Nina Tokayer) began their singing performances from the moment they met, on a beautiful balcony in Tzfat, Israel. They had both been pursuing music their entire lives, and once they met they began dreaming about making music together and now have a following of millions of people around the world. Technion UK did an online event with them during lockdown, so as to bring a taste of Israel to our UK following and tonight we met them for the first time which was a great experience.
We had an amazing night filled with music, singing, dancing, laughter and food. More about Yonina here.
Day 2 Album
Photo courtesy of Adrian Korsner
---
Day 1
We are very excited to welcome you to the first day of our trip in Israel. This morning we heard from Maayan Jaffe Hoffman, an editor from Jerusalem Post, who gave us an excellent briefing on recent news and updates about Israel, its internal/external affairs, COVID-19 progress in Israel and further afield.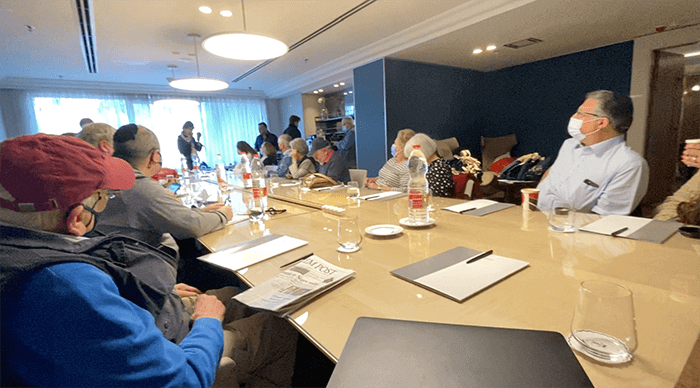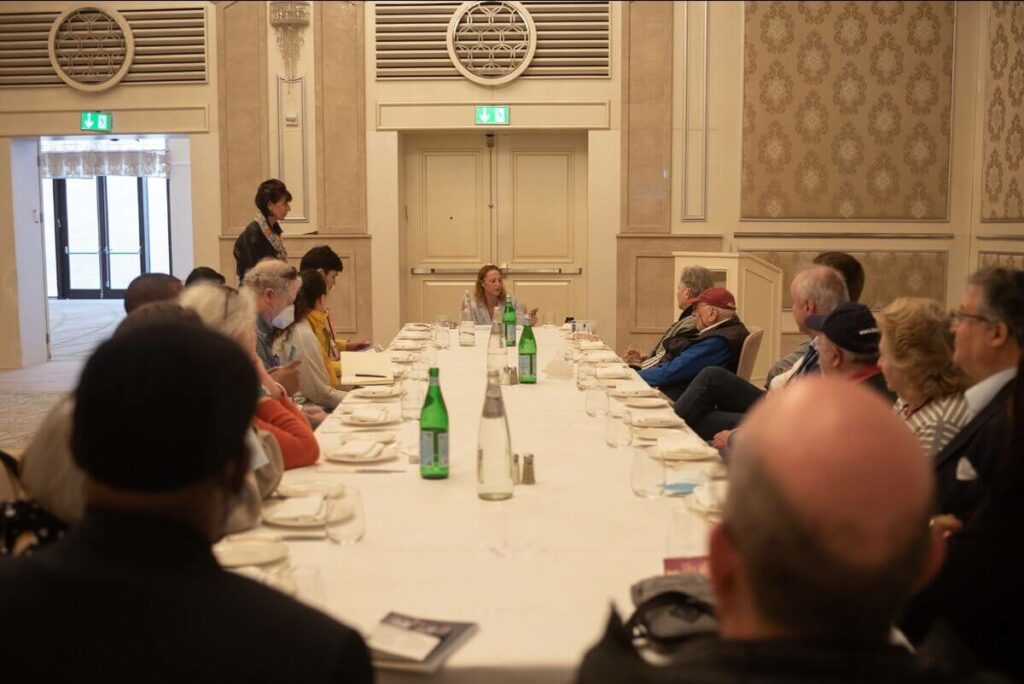 David Horovitz
David Horovitz is the founding editor of The Times of Israel. He shared some recent news from Israel and around the world. He is the author of "Still Life with Bombers" (2004) and "A Little Too Close to God" (2000), and co-author of "Shalom Friend: The Life and Legacy of Yitzhak Rabin" (1996). He previously edited The Jerusalem Post (2004-2011) and The Jerusalem Report (1998-2004). He is the founder and editor of the Times of Israel ten years ago and now has more then 10 million daily readers. It is the most read English news vehicle about Israel, in the world. David was originally born in the UK and moved to Israel in his 20s.
---
Micky Rosenfeld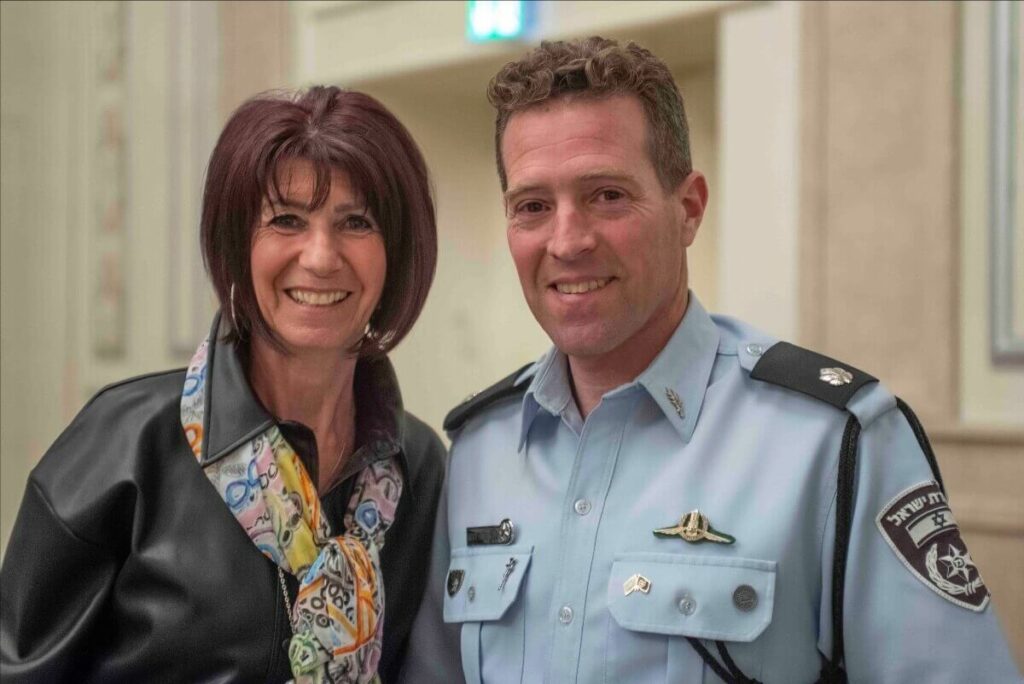 Briefing from Superintendent Micky Rosenfeld. He is the former Israel Police National Spokesman to the foreign Media.
He was appointed to this position as an Inspector in 2005 after serving for eight years as a combat officer in the Yamam counter-terrorism unit. Micky now helps the Israeli Police force establish international relations around the world and he speaks to high level visiting delegations. He is currently the Head of International Cooperation Israel National Police. Micky was also born in the UK and moved to Israel aged 24.
Hearing from these excellent journalists and speakers on our first day gave the group the background knowledge on the current security situation and foreign affairs.
---
Hilma Tech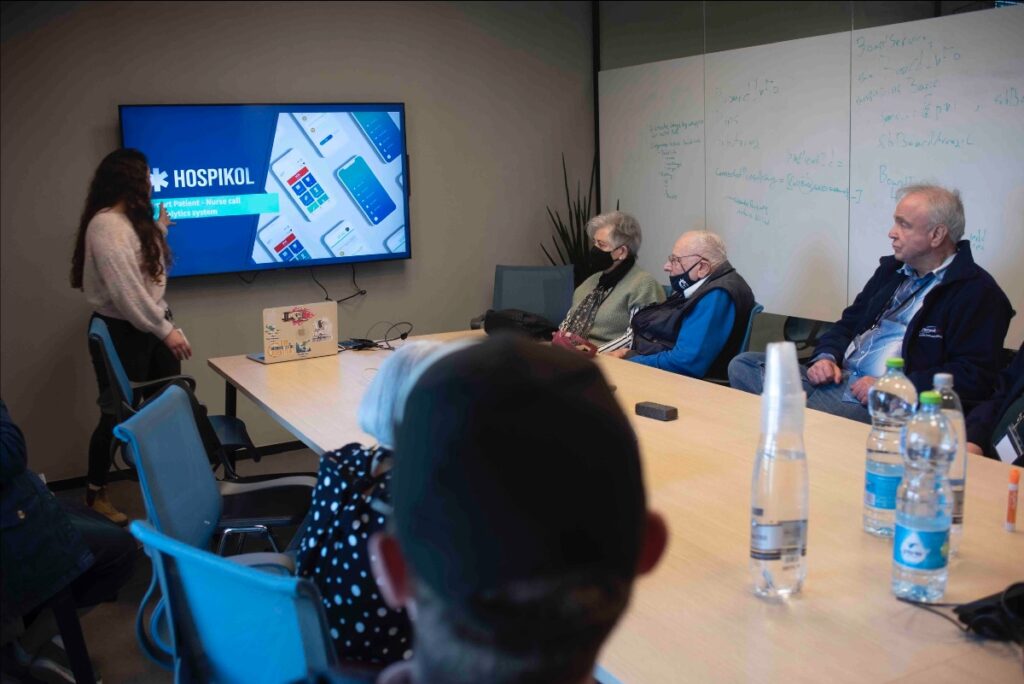 We visited a new NGO Hilma, that has established itself as an alternative for young people in Israel who are either not eligible to be called up or are exempt from National Service. Their aim is to train young people to be able to develop apps that can help the non-profit sector. They teach young people skills in computer science, in coding and web design that will help them in their future career paths.
---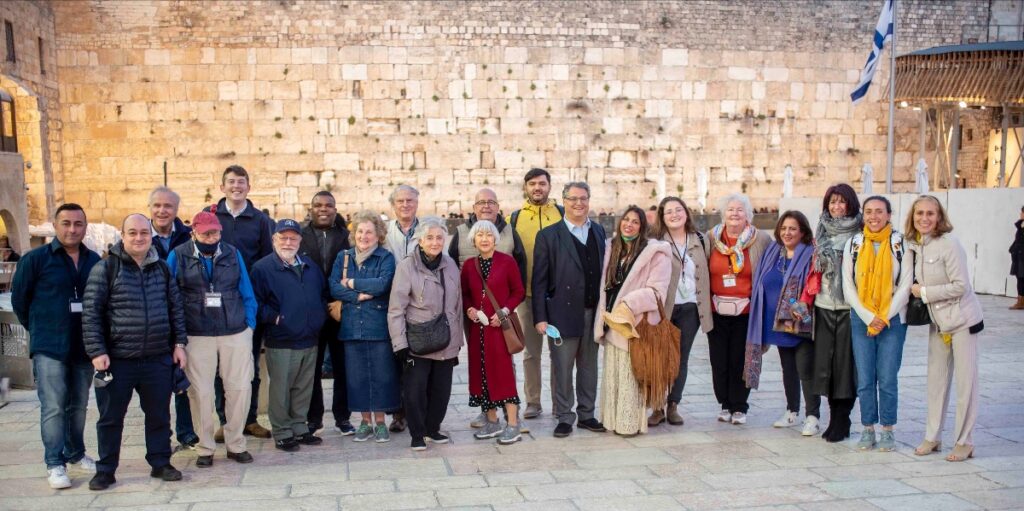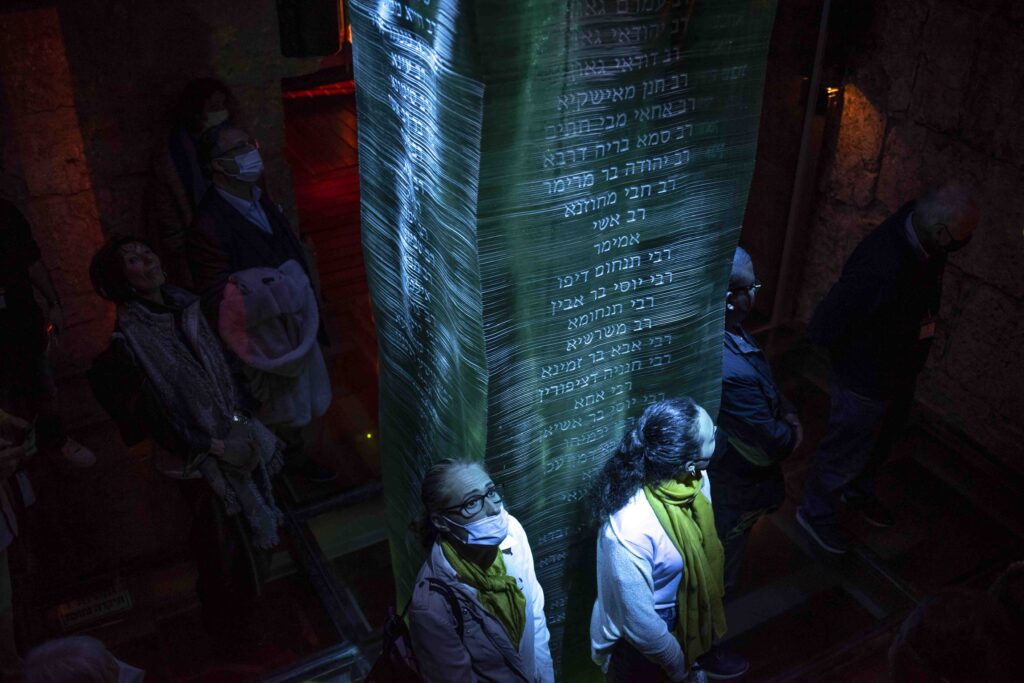 ---
Dinner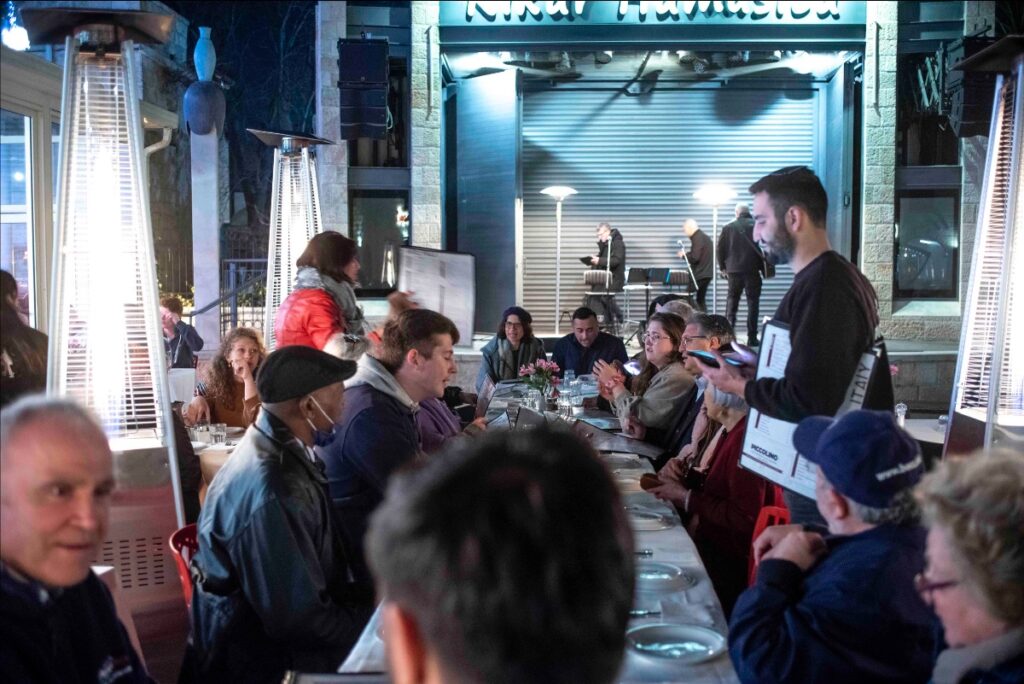 At the end of long and informative day the group had dinner in Jerusalem at a Kosher restaurant in the Music Square, entertained by live singers throughout the evening. The restaurant is famous for opening its doors to Lone Soldiers once a week, who they invite for a meal as their guests.
Day 1 Album
Photo courtesy of Adrian Korsner
---
Alan Aziz , CEO and Ida Symons, Israel Trip and Events Coordinator, are delighted to welcome you to the Technion UK Israel Trip 2022
After 2 years of uncertainty, we are delighted to be back in Israel and to welcoming you back home.
When Israel was founded 64 years ago, it was a barren country with no natural resources, little water, and more than half of its land mass desert. The only thing the new country had going for it was the natural creativity of its people.
More than 7 decades later, the Israelis have turned the country into an oasis of technology and innovation. With the most startups per capita worldwide, and the third highest number of patents per head, Israel has become one of the leading players in the world of high-tech innovation, attracting international giants to its shores. From health breakthroughs to technology, agriculture, the environment and the arts, the country's innovations are transforming and enriching lives everywhere. Technion today is playing a significant role in some of the most important challenges facing our planet.
During this trip, we will be meeting high profile people to include journalists, scientists, entrepreneurs, CEO's of Startups as well as Professors introducing us to ground breaking research.  We will be hearing about the current situation in Israel and the challenges Israel faces worldwide.  We will be visiting Museums, which will map out Israel's historical events as well as enjoying time in the famous Carmel Food Market plus so much more.We hope you enjoy the trip and look forward to spending time together, marvelling at the wonders of our amazing country.
Our speakers who will be presenting: