Welcome to the Technion UK Israel Trip June 2023
October 2022 Trip updates (Click here)
Day 1
We are very excited to welcome you to the first day of our trip to Israel.
Meeting with the British Ambassador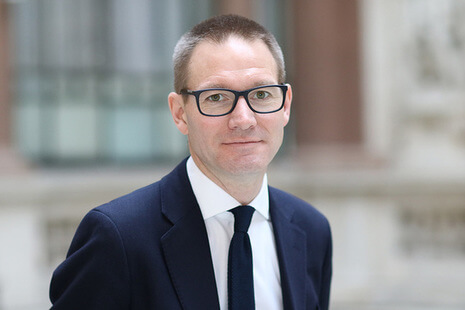 This morning we heard from Neil Wigan OBE, UK Ambassador to Israel, who gave us an excellent update on British – Israeli cooperation and current collaborative research projects. One of many, BIRAX (the Britain-Israel Research and Academic Exchange Partnership) a £multi-million initiative of the British Council and the British Embassy in Israel directed at supporting cooperation among British and Israeli researchers. The Technion is one of the partners and continues to help create and develop such partnerships between Israel and the UK.
---
Mahane Yehuda Market – Food tasting tour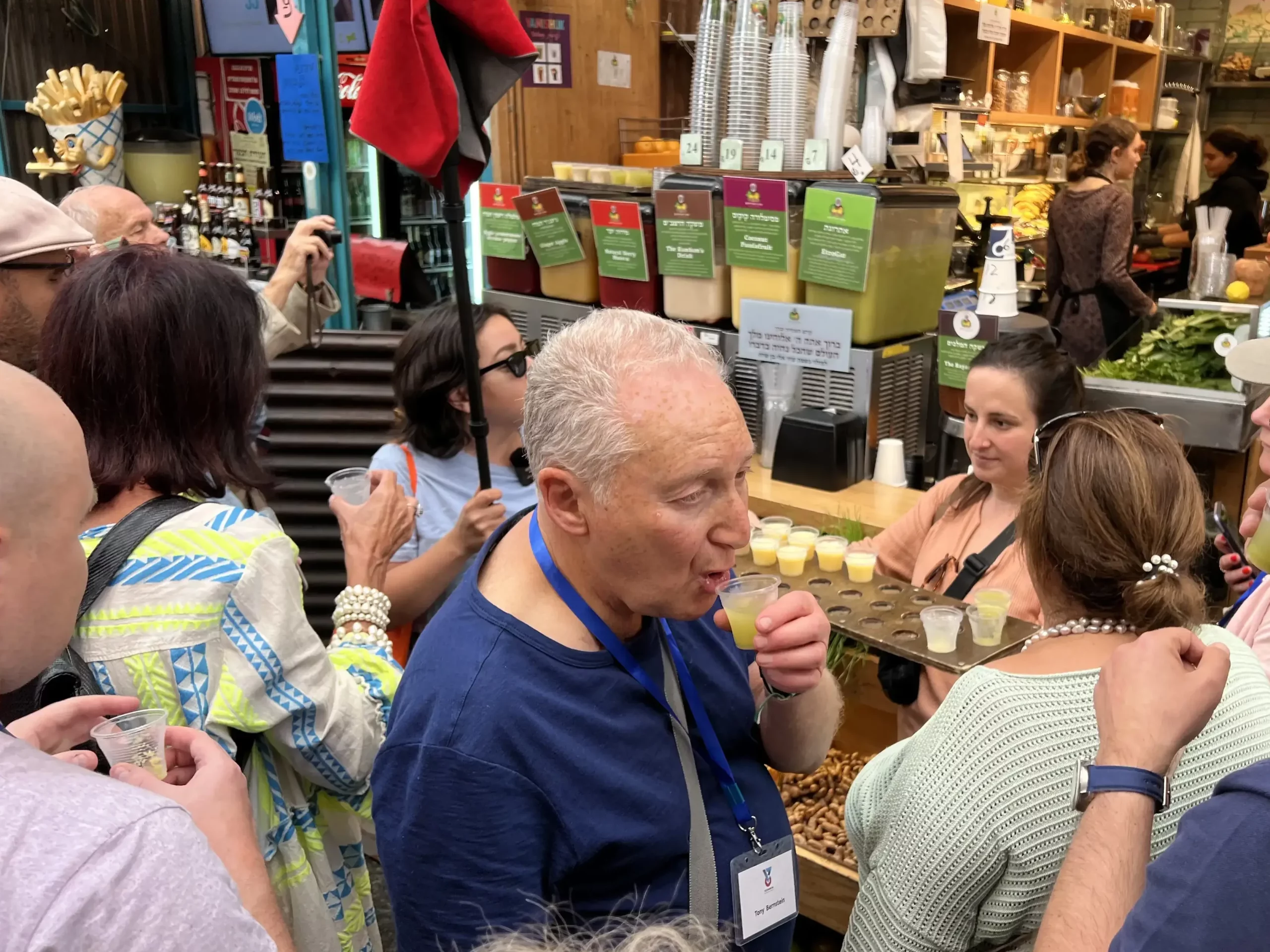 Today was our Jerusalem day. Our first stop was Mahane Yehuda Market, often referred to as "The Shuk", which is a marketplace (originally open-air, but now partially covered). Popular with locals and tourists alike, the market houses more than 250 vendors. We were accompanied by an amazing private tour guide to show us the best food stalls in the market. We met some of the amazing and interesting vendors who form part of the market and heard their stories. We tasted a variety of different foods, including Sabich and pomegranate sorbet.
---
Hilma Tech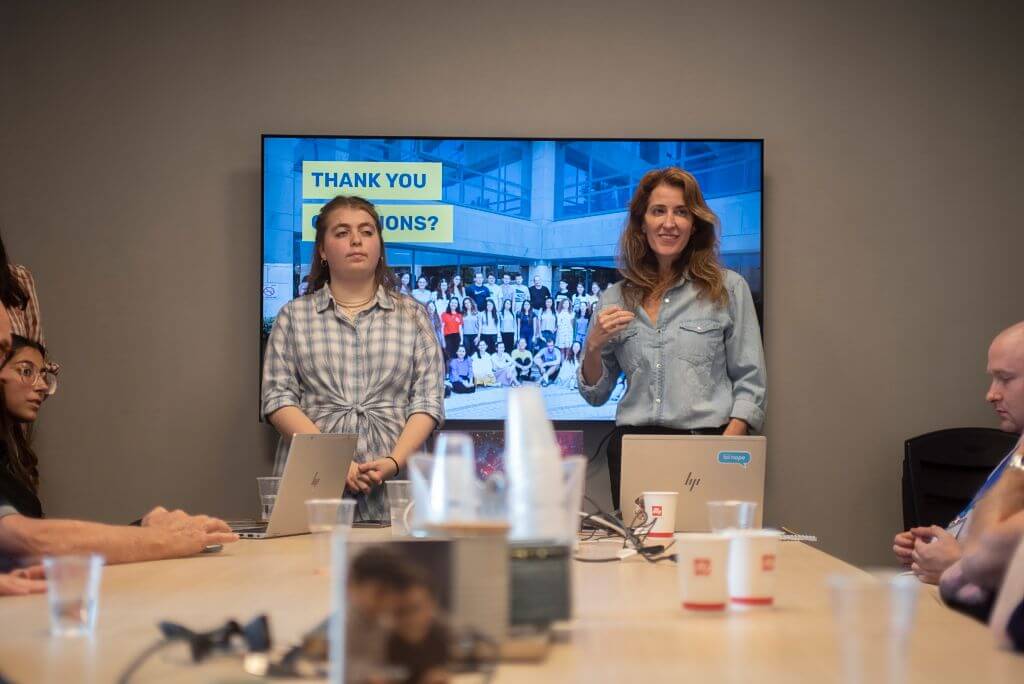 Hilma Tech is a new NGO, that has established itself as an alternative for young people in Israel who are either not eligible to be called up to the army or are exempt from National Service. Hilma Tech aims to train young people to be able to develop apps that can help the non-profit sector. They are taught computer science, coding and web design skills that will help them in their future career paths. These skilled young members of Hilma Tech are also utilised to develop apps and software solutions for non-profit organisations that in turn helps solve various challenges a given organisation might be having. One such project is Hospikol, a software platform solution that helps to improve the efficiency of nurses in hospitals by better prioritising in-patient calls. Hospikol has now completed its Beta testing and starting to enter international markets. The aim of this startup is to help find solutions for non-profit organisations in Israel and ultimately to develop applications that work and can be extended to wider populations.
---
Achdut Israel Synagogue in Jerusalem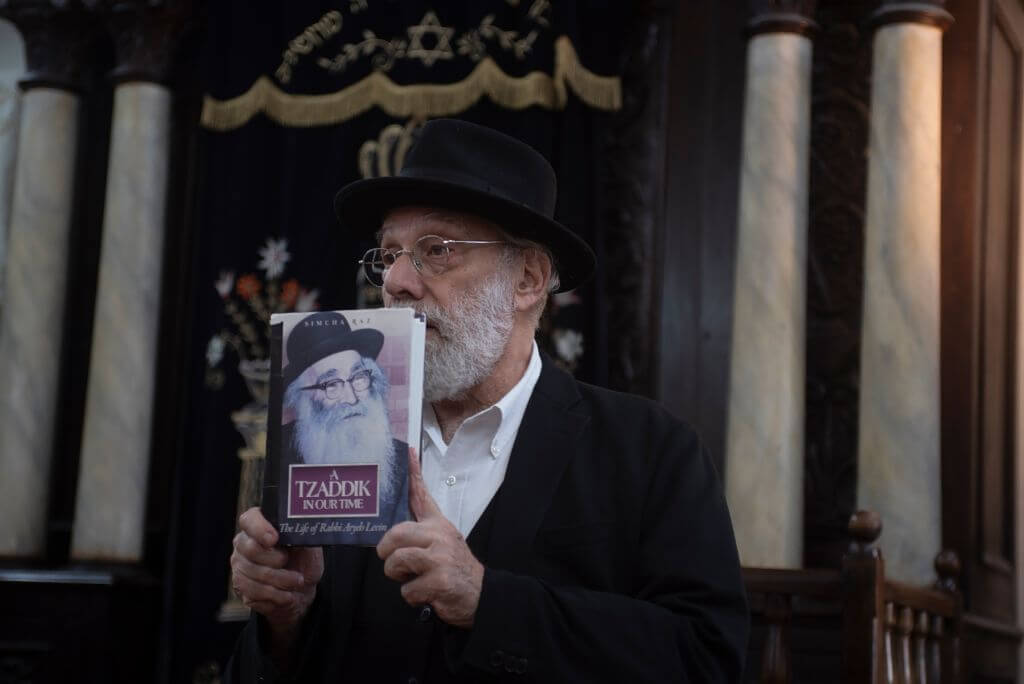 Achdut Israel Synagogue is a beautiful synagogue, which is dedicated to the memory of Olei Hagardom, the martyrs of the Irgun and Lehi underground organizations, who expedited the removal of the British Mandate from Israel. This unique place of worship is hidden on the second floor inside the old Spheradi Orphanage House of Jerusalem, not far from the Machne Yehuda Market (the Shuk) and the exotic Nachlaot neighbourhood in central Jerusalem. We were given an amazing tour of the Synagogue by Rabbi Benjy. He shared interesting stories about the Synagogue's history, stories from his family and their relationship to the Synagogue. This synagogue was used to hide secret stashes of arms.
---
Museum of Underground Prisoners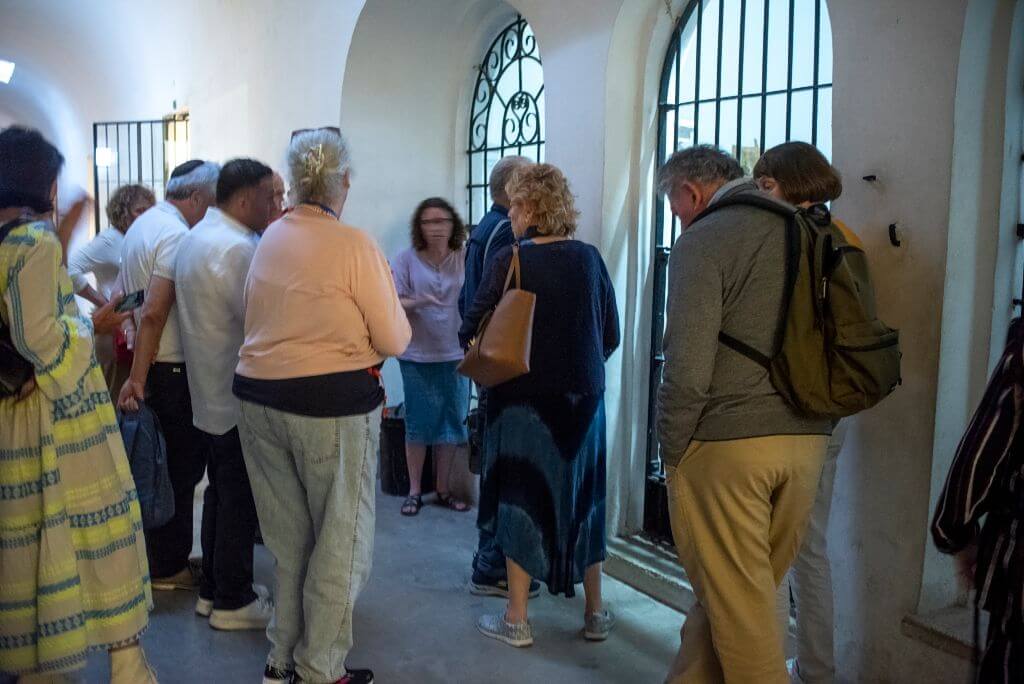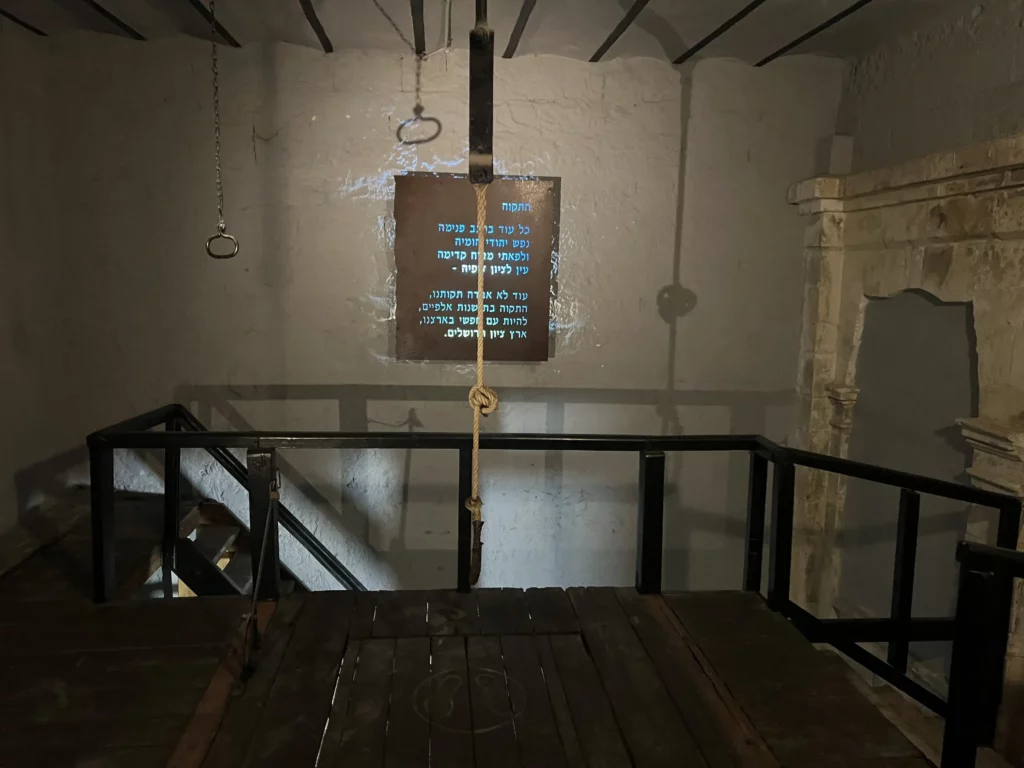 The Museum of Underground Prisoners is a museum in Jerusalem, that was established in 1920 under the control of the British mandate. Between 1920 and 1948 hundreds of members of the Jewish underground – Haganah, Irgun and Lehi – who helped challenge the British mandate period leading up to the establishment of the State of Israel.
---
Abu Ghosh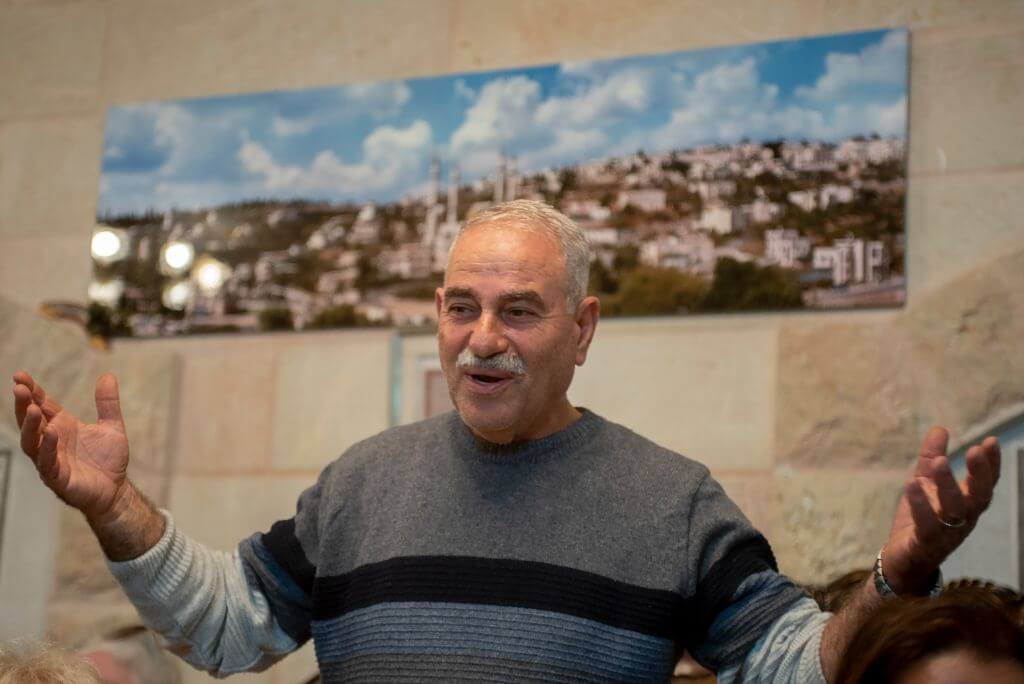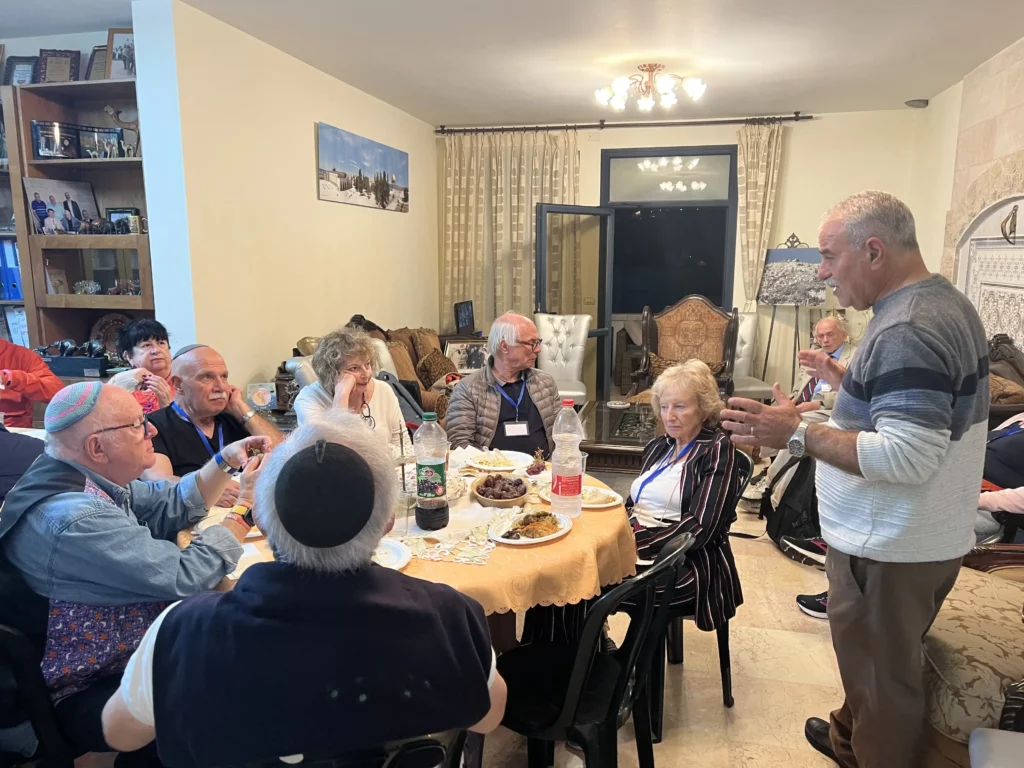 We were hosted by Issa Jaber, a Former Mayor of Abu Ghosh. Abu Ghosh is an Arab-Israeli local council in Israel, located 10 kilometres west of Jerusalem on the Tel Aviv–Jerusalem highway. It takes its current name from the dominant clan inhabiting the town. Issa told the group about the history of his town. In 1948 when the Mufti of Jerusalem encouraged all the Arab towns to evacuate their people before the war of independence and told them that they would come back to larger pieces of land, Abu Ghosh residents refused to leave Israel and demonstrated their loyalty to the country. Since that time the residents of this town have lived in total harmony with all their Jewish neighbours.
---
Day 1 Album
Photo courtesy of Adrian Korsner
---
Day 2
We are very excited to welcome you to the second day of our trip to Israel.
Briefing by Maayan Jaffe Hoffman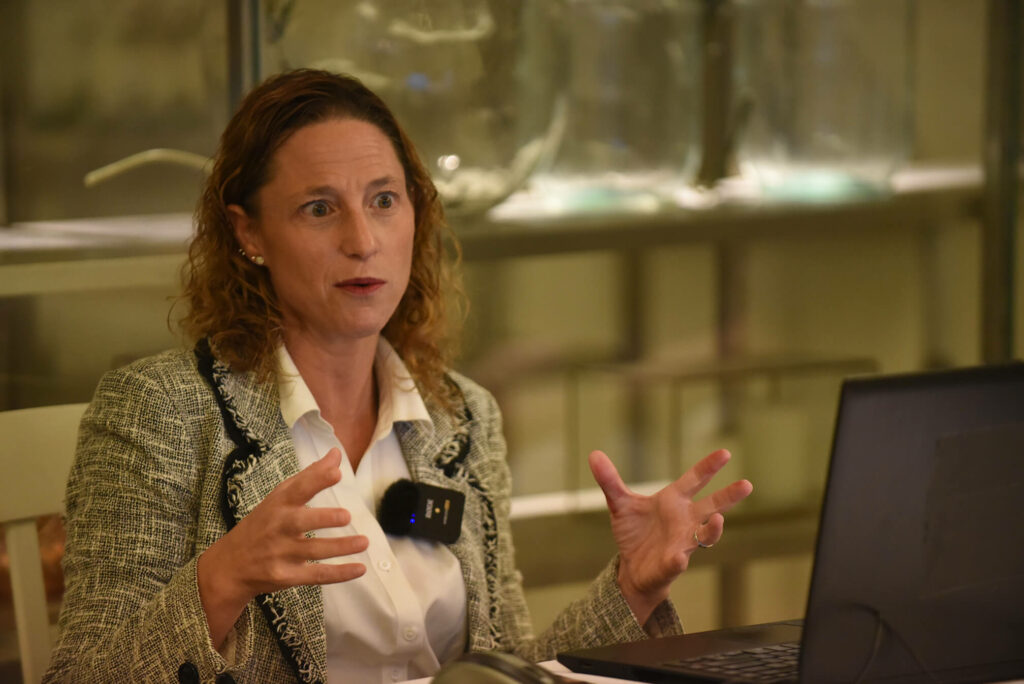 This morning we heard from Maayan Jaffe Hoffman, an editor and former head of strategy at the Jerusalem Post, who gave us an excellent briefing on recent news and updates about Israel, and its internal/external affairs. Maayan's briefing focused on internal politics in the government and upcoming elections in Israel.
---
Palmach Exhibition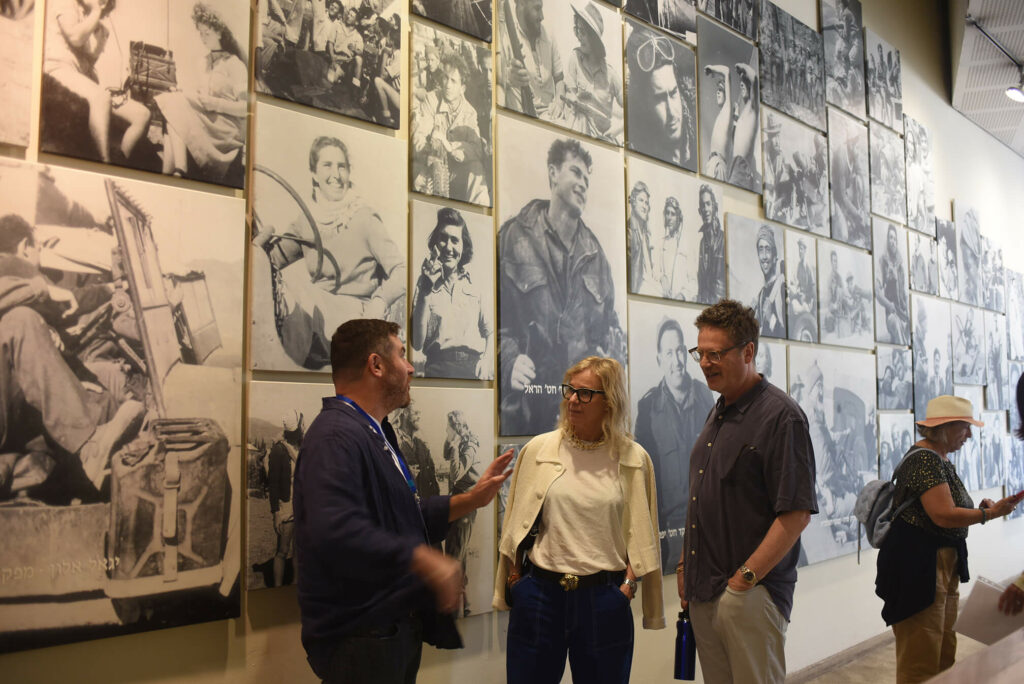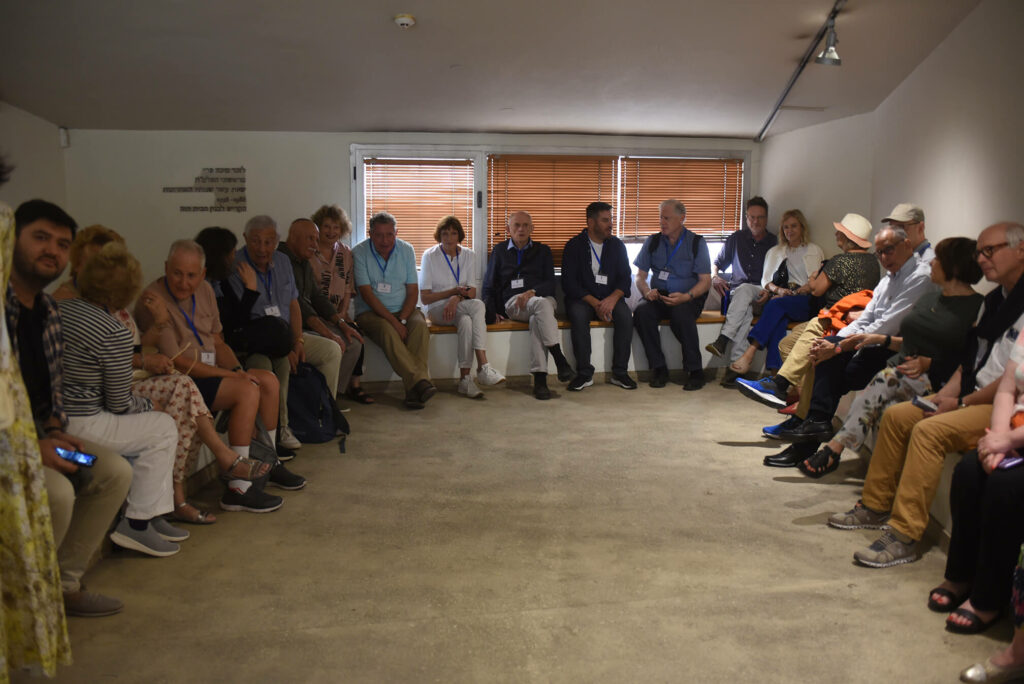 The Palmach Exhibition is located in Ramat Aviv, Israel dedicated to the Palmach, the strike force of the pre-state underground Haganah defence organization, which was later integrated into the Israel Defense Forces. Opened in 2000, the Palmach Museum commemorates the contribution of the Palmach to the creation of the State of Israel. It was designed by Israeli architects Zvi Hecker and Rafi Segal.
The Palmach museum is a centre for teaching the heritage of the Palmach-pre-state fighting units. The permanent exhibit at this site traces Palmach's history until the end of the War of Independence. The museum also provides a memorial hall, rotating exhibits, guided tours and various educational activities. We were accompanied by an IDF soldier as a guide.
---
TriEye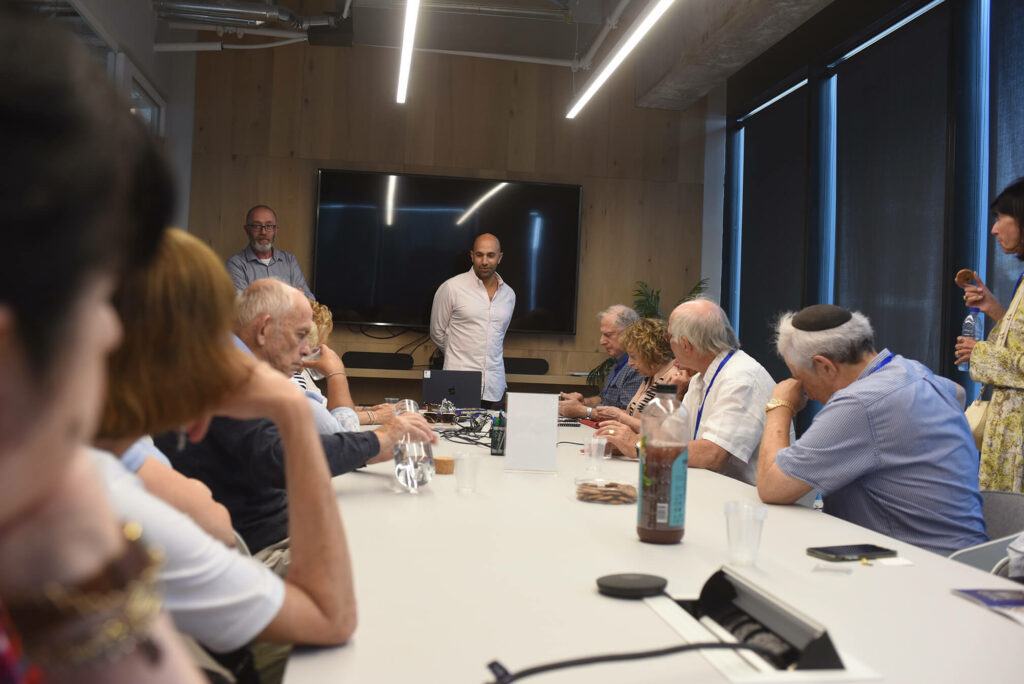 The following stop was a cutting-edge technology innovation startup called TriEye. This startup focuses on developing and producing short-wave infrared (SWIR) sensing technology. The startup has already secured US$ multi-million investments, secured 40+ partners and provides employment to 100+ highly competitive industry experts.
They aim to develop and apply the SWIR technology more cost-effectively and enable mass-market manufacturing of these sensors. In addition, by 2025 they aim to apply SWIR technology to consumer mobile devices, in such areas as beauty and other consumer applications.
At TriEye, we were hosted by Arkadiy Morgenshtein, a Technion Alumni with 4 degrees from Technion, who is now a team leader.
---
SpacePharma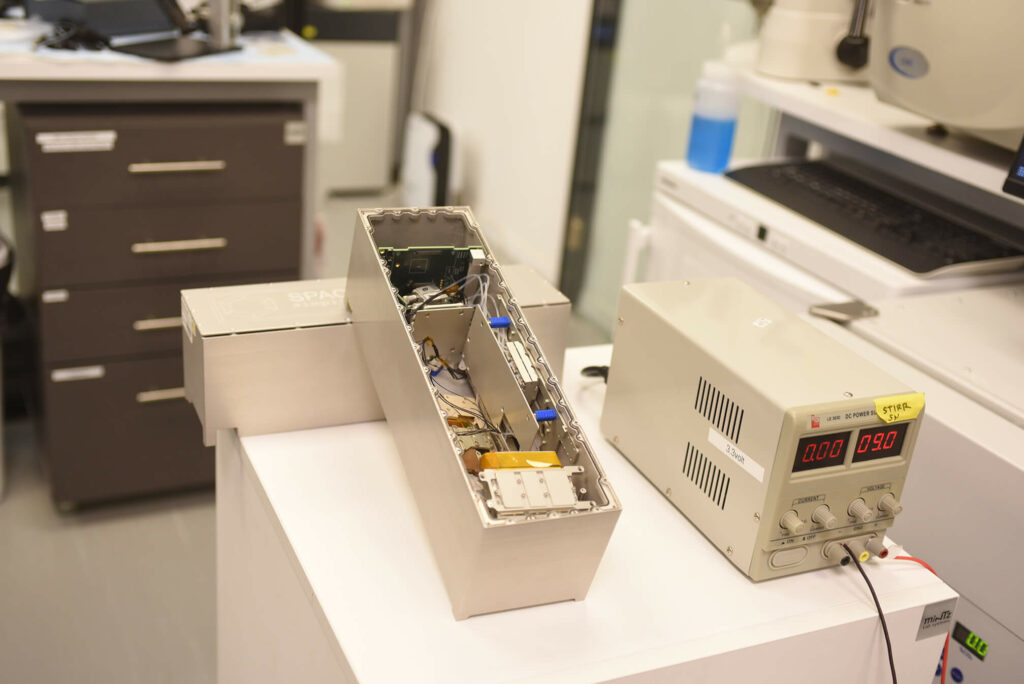 SpacePharma's mission is to leverage the miniaturised microgravity lab technology sized as a 'shoebox', enabling unprecedented possibilities to develop new drugs in space. This allows many companies to carry out R&D in a close to zero gravity environment. For example, it allows researchers to experiment with growing cells in not just 2 dimensions, but in 3 dimensions when there is no gravity pulling down the substances. SpacePharma enables all this at a fraction of the costs, with higher success rates than experiments conducted with traditional research methods which previously required cosmonaut scientists engaged in the research in person in space. Now, it is possible to send a 'shoebox' lab to space and carry out research remotely from the earth. They are aiming to bring a positive impact on millions of lives here on earth.
---
Natalie Lisbona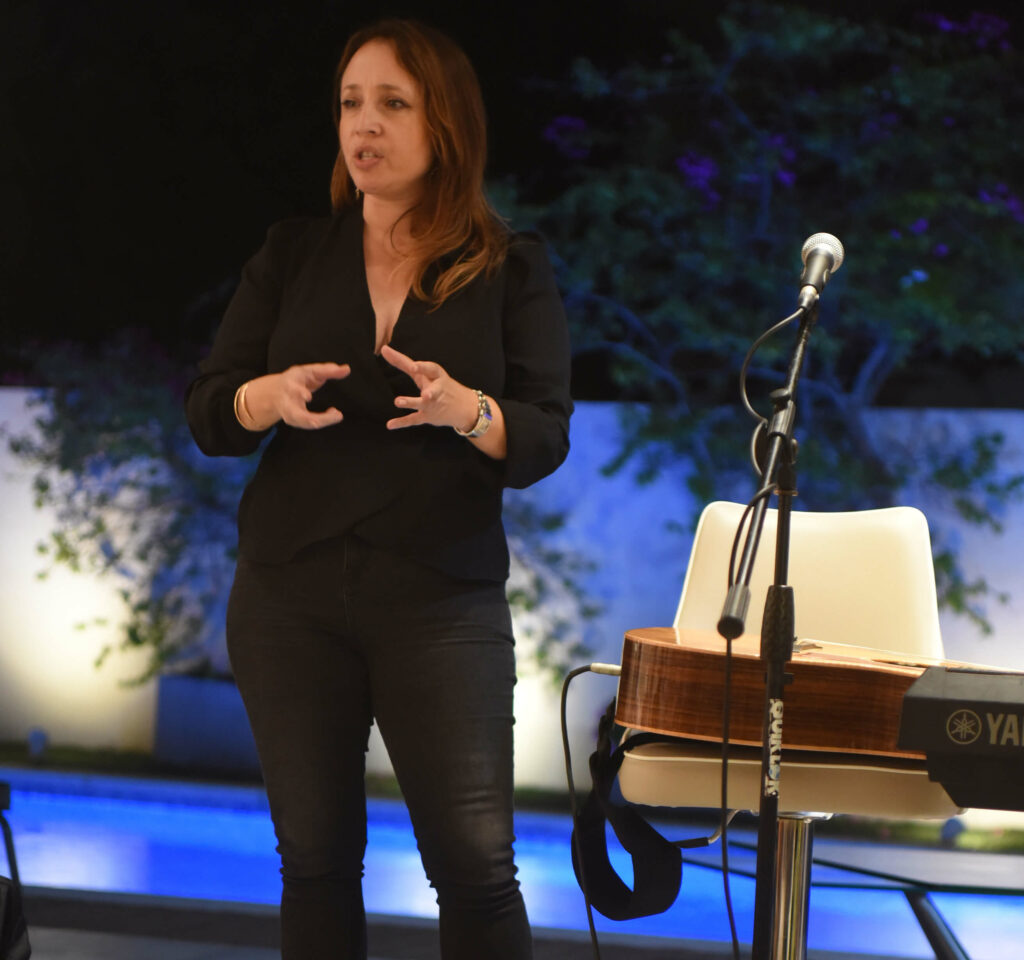 Natalie Lisbona, an Award-winning journalist shared insight into professional journalism, its hurdles and how she advocates for reporting the truth in difficult situations. She moved to Israel with her husband and 3 children 10 years ago. Natalie Lisbona is an award-winning Journalist, Fixer and Producer based in Jerusalem, Israel and the Palestinian Territories.
She reports on many topics from hard news to real life and has written for many publications. Natalie has 24 years of experience as a Producer at SKY NEWS London, BBC1 London, ITV1 Head of News Desk at This Morning London and Senior Producer at Daybreak (now GMB) London.
She is a Former Head of the News desk, Booking and Planning at Israel's 24-hour international news channel i24NEWS which broadcasts in English, Arabic and French.
---
Yonina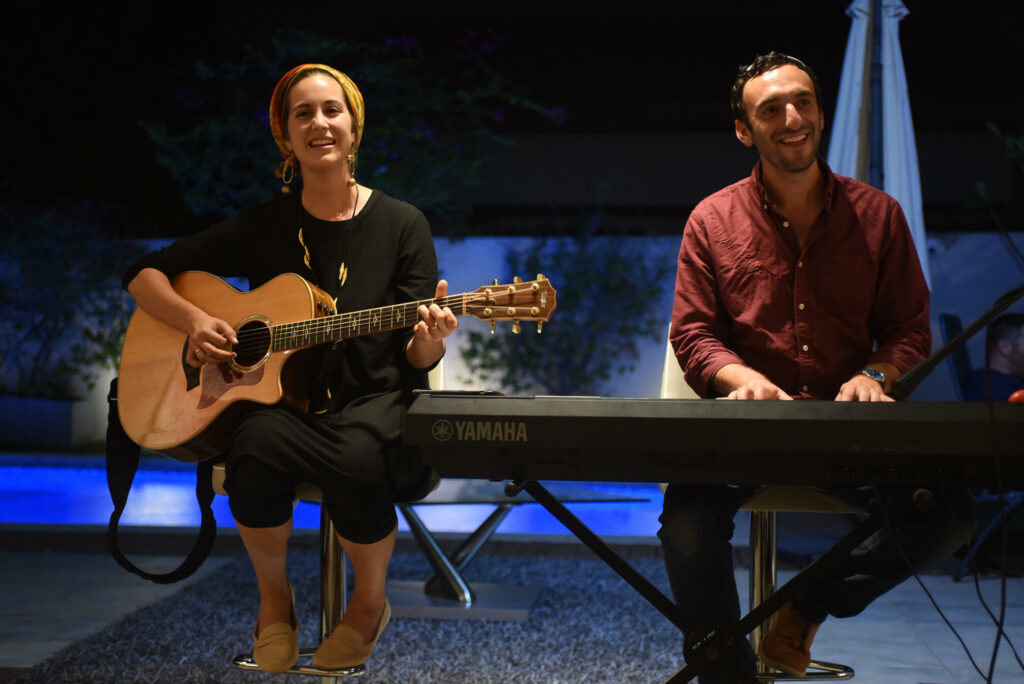 "Yonina" (a combination of their names -Yoni and Nina Tokayer) began their singing performances from the moment they met, on a beautiful balcony in Tzfat, Israel. They had both been pursuing music their entire lives, and once they met they began dreaming about making music together and now have a following of millions of people around the world. Technion UK hosted an online event with them during the lockdown, to bring a taste of Israel to our UK following and tonight we met them for the first time which was a great experience.
---
Major Keren Hajioff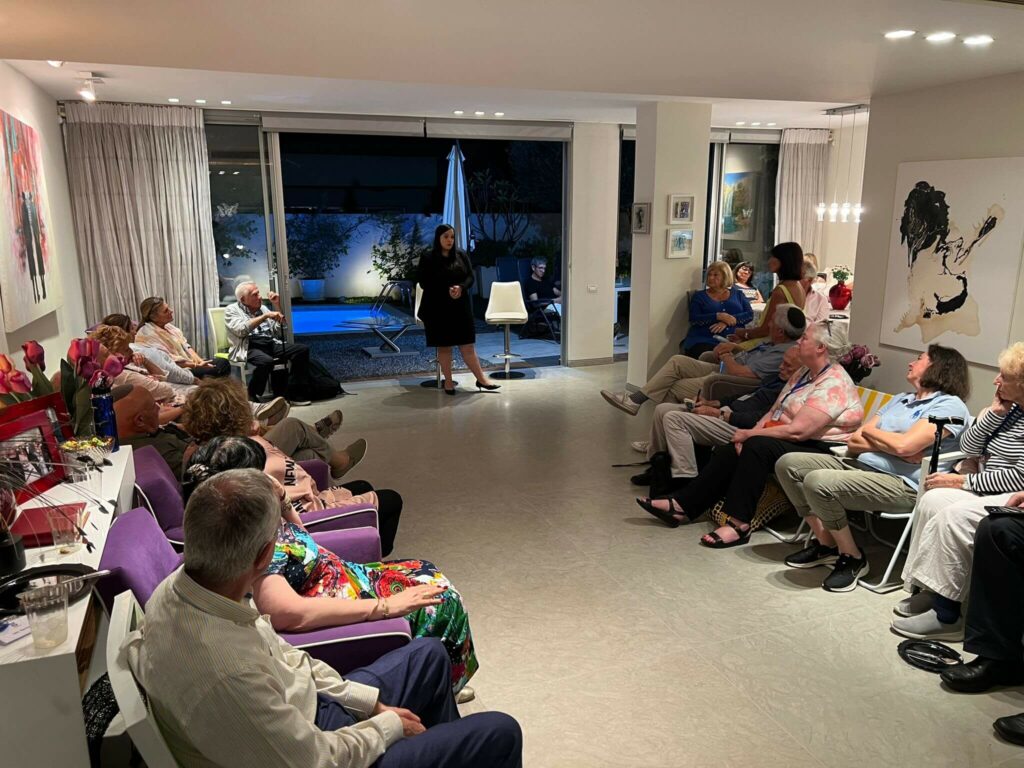 Our day was concluded by Keren Hajioff, who was the International Spokeswoman for Israel's Prime Minister Naftali Bennett and now works as a special advisor to Lapid
Before this position, Keren Hajioff served in the IDF Spokesperson's unit in various positions, reaching the rank of Major. Most recently, she served as the Spokesperson of the Northern Command, responsible for communicating all of the IDF's operational activity on Israel's borders with Lebanon and Syria to Israeli, Arabic and International Audiences.
Keren was born in the UK and came to the age of 19 after spending a year in Israel
Keren gave us an update on Israel's political position with its allies and opponents.
---
Day 2 Album
Photo courtesy of Adrian Korsner
---
Day 3
IDF Visit
The day was kickstarted with a visit to Israeli Defence Forces (IDF) at Gideonim Camp. We were shown around by various soldiers who are part of the IDF Cyber defence unit.
IDF Cyber Defence unit is responsible for cyber defence, communication, wireless transmission, computerization, and control over intelligence information in the IDF. The Cyber Defense Directorate provides commanders in the field with the appropriate technology needed to manage a situation in the best possible way
As we were told, the cyber defence unit was established in 2003, the cyber revolution was started in 2016 by establishing the 10th combatant command in IDF.
A member of the Cyber Defence Unit training camp shared the infrastructure available for the IDF members. Full-scale server rooms capable of simulating complex, real-world-like network implementations. These simulations help IDF to train and be ready for real-world attacks and threads.
---
The Iron Dome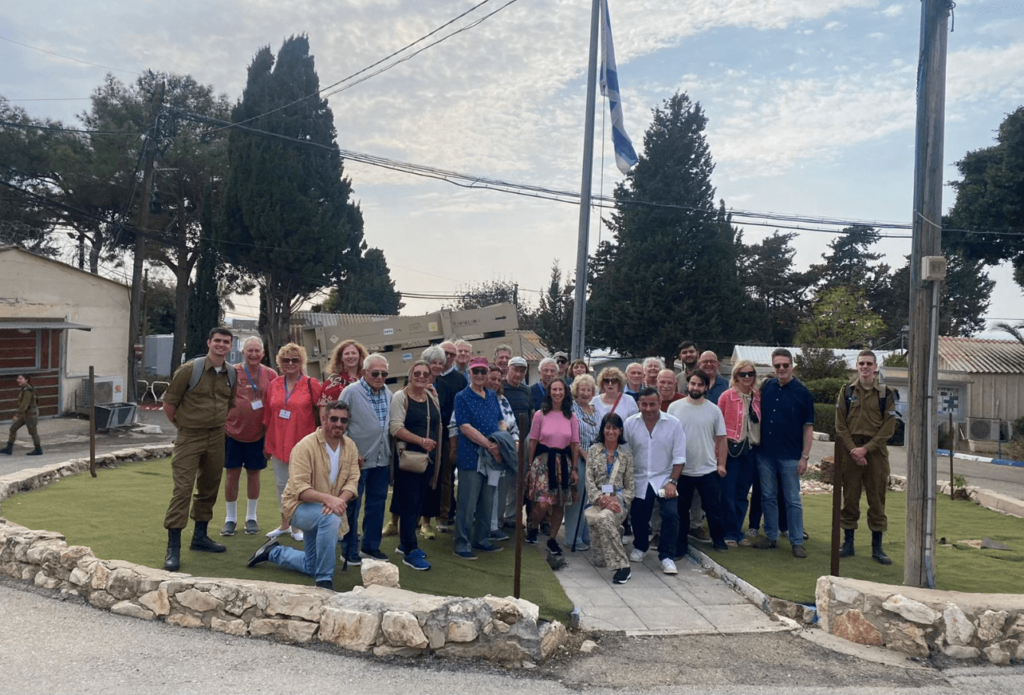 After a lovely Kosher lunch break, we were taken to one of many Iron Dome sites (secret location). The Iron Dome covers the airspace of the whole of Israel from multiple locations/sites to provide umbrella-like protection from any incoming missiles. A member of the IDF who operates one of such Iron Dome sites has shared their experience and how Irom Dome is providing Israel with a lion's share of its air space protection.
Technion played a crucial part in inventing the Iron Dome. It was developed by four Technion graduates working for the leading security defence group Rafael.
The Iron Dome has been acclaimed for its capacity to intercept and eliminate short-range rockets and was deployed effectively by Israel during Operation Protective Edge. Its mechanism was inspired by a remote-controlled toy car.
---
Professor Shlomo Maital and Rafi Nave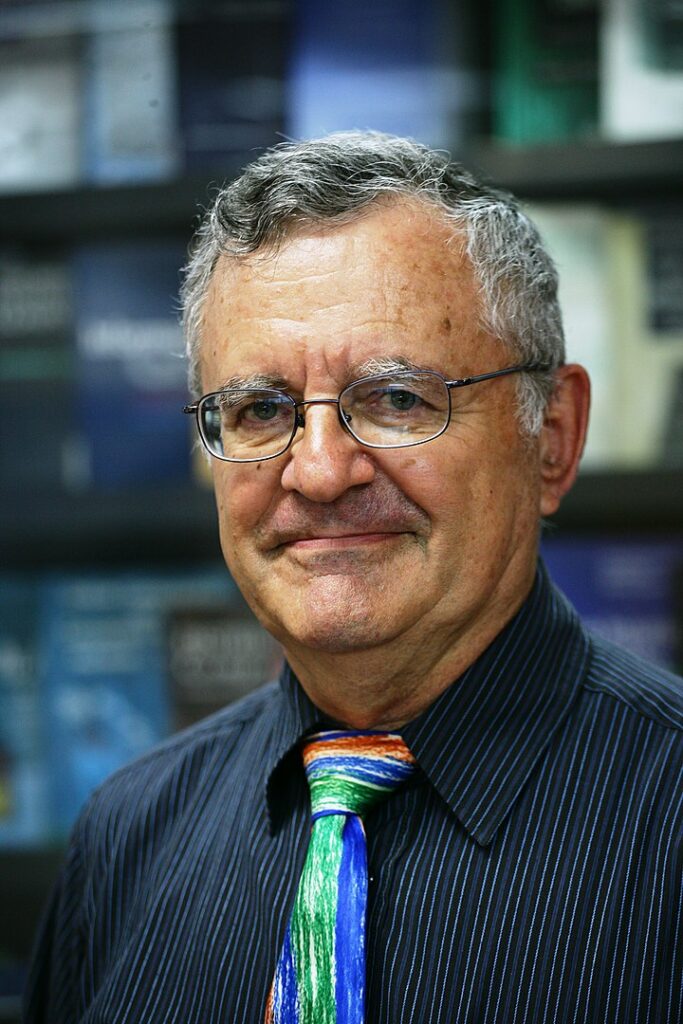 Our group met with two prominent scientists, Shlomo Maital, a professor emeritus at Technion and Rafi Nave, a leader in Israeli entrepreneurship and applied technologies with lifelong ties to the Technion.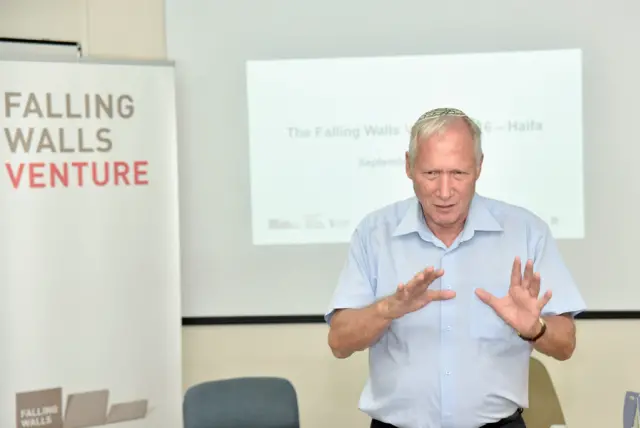 Professor Shlomo Maital and Rafi Nave were sharing some insights into their book "Aspiration, Inspiration and Perspiration", and how Technion graduates merge creativity with technology to change the world. They spoke about a company called Insightec, a company connected to Technion which helps people who have tremors and Parkinson's.
---
UK Group Meets new Technion Vice president
The New Vice President of the Technion and a professor in the Department of Material Science and Engineering at Technion, Wayne Kaplan shared how it is important for Technion to have the best Faculty members as this in turn helps students at Technion. He also outlined the importance of external contributions and support to Technion to fund Technion's research and innovation that inevitably will contribute to Technion's and Israel's future.
---
Day 4
Dedi Meiri
Our day started with a visit to Dr Dedi Meiri, who heads the Laboratory of Cancer Biology and Cannabinoid Research in the Technion Faculty of Biology. This laboratory is the largest laboratory of its type in the world. He is also a member of the Technion Integrated Cancer Centre.
We had a very interesting and extensive lecture on his background and how he was the first licence holder in Israel to run a Cannabis lab to research cannabinoids and develop science in cannabinoids. As a result, many thousands of patients are now receiving cannabinoid treatments against a vast variety of diseases and illnesses.
---
Cannabis lab
Next, we went to the cannabis lab where all the work exploring and researching thousands of types and strains of cannabinoids is carried out. With almost 50 members in the lab, Dr Dedi Meiri introduced a few members of his team who in turn shared some details of the amazing work they do in the lab and at Technion.
---
Technion Visitor Centre
The group experienced a wonderful tour of the visitor centre which incorporates a 360-degree cinema and museum exhibits. The film introduced some of the brilliant Nobel prize winners of the Technion and some other amazing individuals together with their extensive contribution to Technion and the greater bank of knowledge in science and technology.
Nikol, a Technion student shared some amazing insight into the campus life of students and how self-sufficient campus life can be in terms of resources provided on campus, such as the cinema, gyms, supermarkets and other day-to-day needs.
---
Tunisian mosaic synagogue (Or Torah)
The next stop was at the Or Torah or Djerba Synagogue in Acre, built after the El Ghriba synagogue in Djerba. The beautiful building was erected in 1955. It is covered with millions of mosaics inside which have been manufactured at Kibbutz Eilon. The building has 140 stained glass windows and a dome.
---
Crusader Fortress
After an amazing kosher Levantine lunch at Roots, we headed to the Crusader Fortress joined by Uri, our private guide. Uri, who also happened to be a Technion graduate who is now retired from the commercial world and became a guide, share very interesting stories about the fortress and its history.
We were told by Uri that the Crusader Fortress is a UNESCO-protected archaeological treasure in Acre. The Crusader Fortress was built by the Knights Templar in the 12th century. The north of Israel houses many archaeological treasures. It was built and inhabited by the Knights Templar at the turn of the 12th century.
Following our Crusader Fortress visit, we also had a chance to see the Templar Tunnel. The Templars were knights-monks who lived in the Citadel. The Templars dug the secret tunnel underground, right under the city houses, which connected the Citadel to the port of Acre. The tunnel is 150 meters long and it was discovered only in 1994. Today, seawater and groundwater flow inside the tunnel but we were able to walk through it following our guide, which brought us to a beautiful view of the sea.
---
A beautiful view of Haifa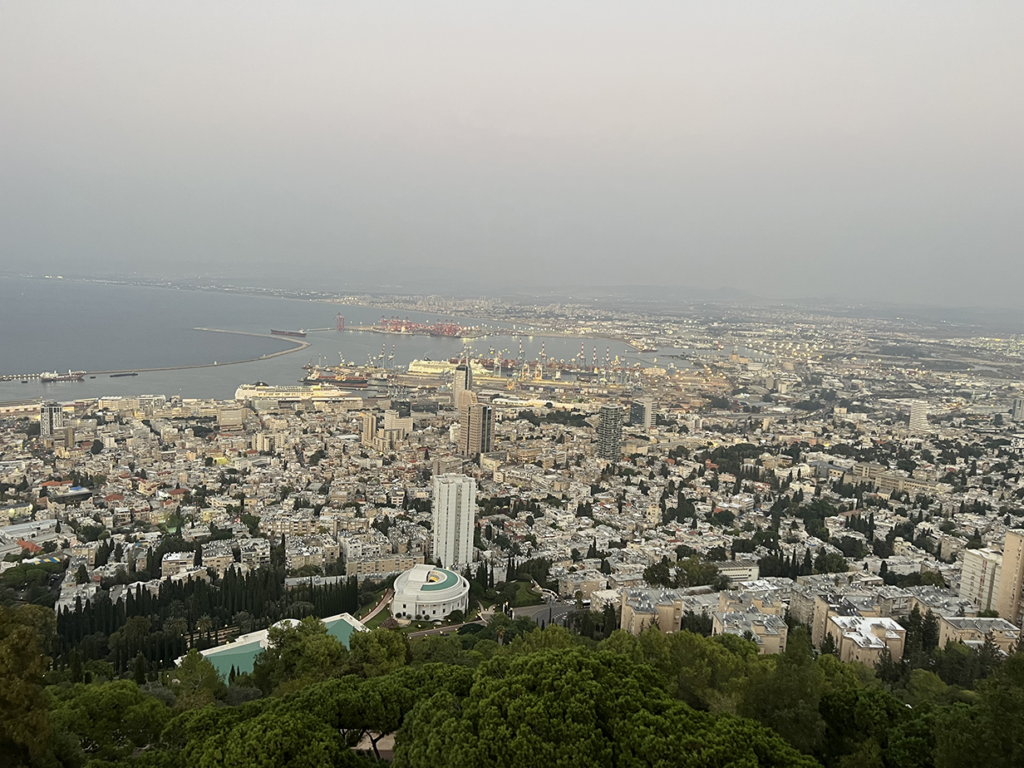 The day ended with the group having dinner and drinks on the roof of the Dan Carmel hotel with an amazing view of this special city.
Haifa is Israel's 3rd largest city. It is situated on the slopes of Mount Carmel and faces the Medeterenian sea. The city is famous across Israel for its mixed populations of Jews and Arabs. Here they live in peaceful coexistence.
Day 4 Album
---
Day 5
Yona Yahav – Ex Mayer of Haifa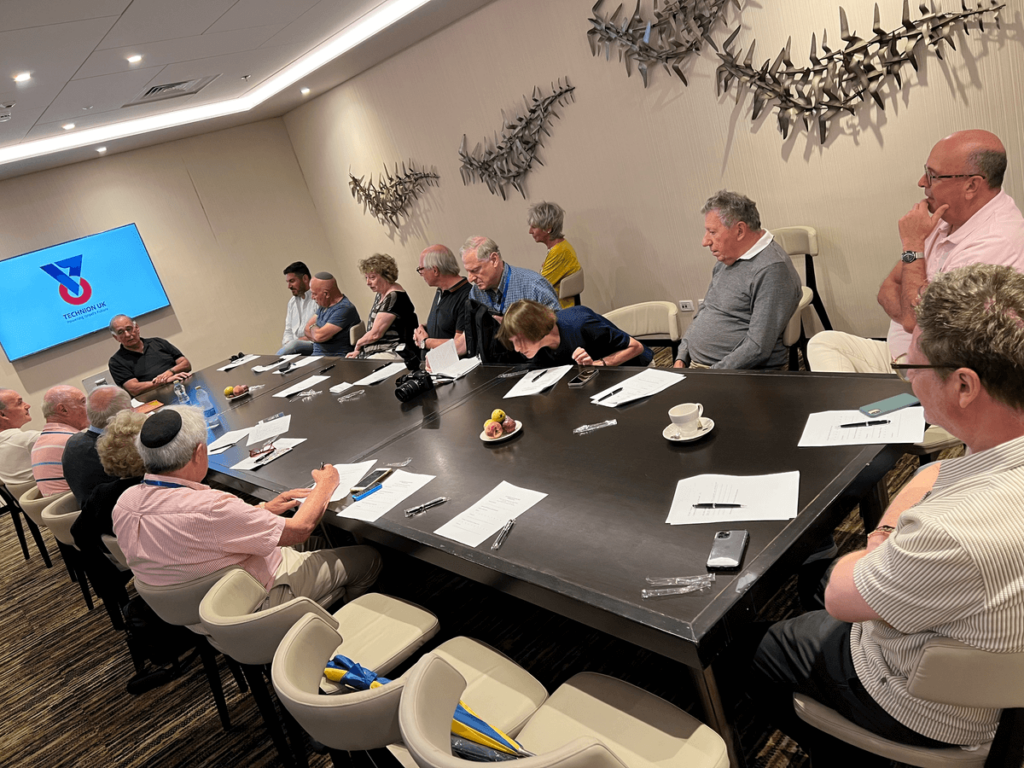 The last day of our trip started with a speech from Yona Yahav an Israeli lawyer and politician. Yahav was the mayor between 2003 and 2018 of Haifa, the capital of the north.
Yona Yahav shared the work he has accomplished during his time as a Mayer of Haifa and the hurdles and difficulties he had to overcome to contribute to the development of Haifa socially, politically and economically.
He spoke about how 30 years before the state of Israel was established, visionaries at the Technion decided to open an institution dedicated to science and technology. At the start, there were only 17 students, now there are 16,000.
---
Carmel Winery private tour
Next, we visited Carmel Winery, founded in 1882, products of which are exported to over 40 countries. It is the largest winery in Israel, with a local market share of almost 50%. We were told, Carmel Winery produces over 60 million bottles of Wine yearly. We were also shown by the private tour guide the process of making Kosher wine and the cellar where it is stored. Our Carmel Winery tour concluded with a wine tasting of Carmel Wines.
---
Highlights of the trip from our group members
Our Oct'22 tour concluded with the whole group sharing their impressions and highlights they had during the trip. Many group members enjoyed the talks given by the startups TriEye and SpacePharma as well as meeting Yona Yahav and other speakers during the trip.
---
Technion's innovative achievements
---
Technion UK Legacies
---
Day 5 Album
---
March'22 Trip updates (Click here)