Can Israel Become A Nation Of Startup Marathoners?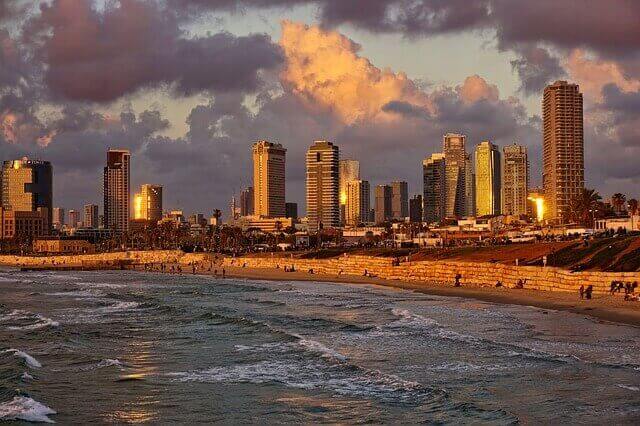 Having returned a week ago from Israel, I remain impressed by its strengths as a place to start companies.
Article by Peter Cohan, published on Forbes.com on May 26, 2019.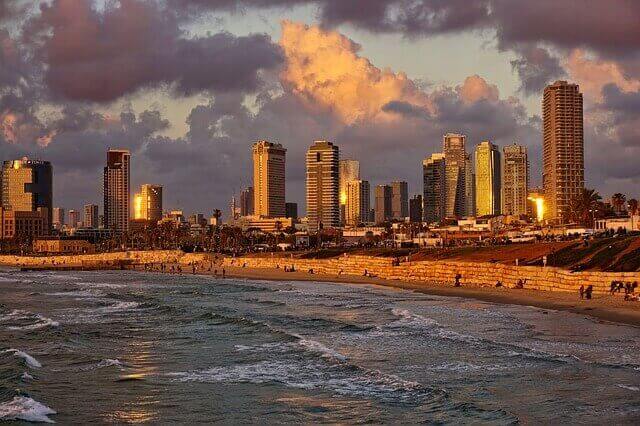 Beautiful view of Tel Aviv in Israel. Pixabay.
Yet Israel strikes me as somewhere in the middle of a transformation — from a nation that starts and sells companies to the likes of Google and Intel to one that hosts its own publicly-traded world-transforming industry leaders — on the order of Facebook and Google.
My visit to Israel was part of a Babson College Israel Startup Strategy Elective Abroad for 22 undergraduates. The first part of the course was classroom learning focused on three questions:
1. Why does private capital flow more to some countries than others? (based on Capital Rising, which I co-authored with Srini Rangan)
2. Why do a few regions host most of the startups and what should the rest do about it? (based on my 13th book Startup Cities); and
3. Why do a few startups succeed while most fail? (based on my 12th book, Hungry Start-up Strategy).
The second part of the course — which wrapped up May 19 — was a visit to Israeli startups, investors, accelerators, and government officials — along with cultural activities.
In the third part of the course, student teams conduct six-week consulting projects with startups in a startup incubator called 8200 Impact who are seeking help with their growth strategies.
How Israel Changed Its Narrative
Israel's Startup Nation narrative has been well-established in many minds — due in part to the success of the 2009 eponymous book. To counter the image of the country as a source of endless conflict, many now see Israel as an extraordinary entrepreneurial success story, Mike Bargman, CEO of Headline Media, a Tel Aviv-based PR firm said during our May 15 meeting.
The 71-year-old nation of nine million people has in the space of a few decades turned itself into a country with more IPOs per capita than any other.
Since most everyone enters the military before starting university, Israel trains people to lead others and — for the elite who are selected for its 8200 and 8100 units (analogous to our NSA) — gives them a deep knowledge of technologies that can form the basis of new companies.
Israel's leading universities and research institutes — such as the Technion, the Weizmann Institute, Hebrew University, and Tel Aviv University — also supply intellectual property that finds its way into startups.
Israel faces many handicaps — it has a small local market, it's surrounded by hostile countries, it lacks natural resources, and it has limited venture capital — particularly to fund the growth needed to go public.
Yet it has overcome many of these challenges. By developing technology in Israel and bringing on talented country managers, its companies have been able to gain share in huge markets for cybersecurity. On May 16, Andy David of Israel's Ministry of Foreign Affairs said that 20% of the world's 2,200 cybersecurity companies are in Israel.
The Israeli government continues to fund research partnerships with countries around the world to bring more corporate and venture capital into Israel. For example, the Israel Innovation Authority spends $500 million a year to fund innovation, Les Abelson told us on May 16.
That money — which is matched by partners in other countries — is paid out in $400,000 grants to startups — in industries including cybersecurity, life sciences, and nanotechnology. For every $1 invested, Abelson believes that the Israeli economy gets back $5 to $10. As he said, "We lose 70% of the money we give out — which creates valuable learning — but 30% we get back in royalties."
I have been following one of Israel's early public technology companies, cybersecurity technology provider Check Point Software, for nearly two decades.
As I wrote in April 2018, Check Point CEO, Gil Shwed told me that he wants the company to grow faster than its 7% five-year average. But over a year later there is more work to be done. In the latest quarter, Check Point reported 4% revenue growth — though Shwed seemed happy that its "subscriptions including advanced solutions for Cloud and Mobile as well as SandBlast Zero-day threat prevention" were up 13%.
We also visited with website development service, Wix, which grew at an impressive 27% rate in the latest quarter. On May 20 I wrote about why its organization and management processes bode well for its future.
People we met were proud to discuss the sale of Israeli companies to U.S. giants. Examples include Google's 2013 acquisition of mapping service Waze for an estimated $1.3 billion and Intel's $15.3 billion takeovers of autonomous vehicle control technology supplier Mobileye.
Can Israeli Entrepreneurs Run the Marathon?
This brings me to what I believe is the most significant transformation that Israel must undertake — from a creator of business leaders whom I call sprinters — who can turn an idea into a company that gets acquired — to a nation of marathoners — who take such companies public, generate revenues in the billions of dollars, and keep growing at 20% or more. (I spelt out the differences between such leaders in my new book, Scaling Your Startup).
This matters because if Israel can produce more marathoners, it can host more pillar companies — locally-headquartered, public companies that invest in local startups — to create more local jobs and provide tax revenue to help fund the build-out of infrastructure needed to reduce the traffic and housing crunch that accompanies Israel's current economic success.
Is Israel Germinating the Next Amazon or Facebook?
This is hard to do — and at the moment there seems to be a lull in new Israeli marathoner candidates. As Bloomberg reported, the number of recent Israeli IPOs has tailed off. After 17 in 2014, there were only six in 2016 and eight in 2018. As of March 2019, there were seven — in payments, cybersecurity, ridesharing, and other fields — that Bloomberg considered being in the IPO pipeline.
Indeed, since then one of the companies — cybersecurity supplier Tufin Software — has gone public. On April 12, Tufin sold shares on NASDAQ at $21 — about where its stock sits now — yielding a $698 million market capitalization on 2018 sales of $85 million up 30% from the year before and a $4.3 million loss, according to YahooFinance.
Another IPO aspirant, Gett Taxi, a ride-hailing service — recently raised $200 million at a $1.5 billion valuation, according to TechCrunch, and expects to go public in 2020. It would probably be better for Gett if by then shares of Uber and Lyft have risen from their current dismal levels.
In March 2018 I met with Shlomo Kramer, who helped found many Israeli companies that went public including Check Point, Imperva, and Palo Alto Networks. Kramer — co-founder and CEO of a new startup, Cato Networks– told me that Israel is trying to build companies to last — and to that end he is mentoring first-time Israeli entrepreneurs.
Meanwhile, Israeli startups are germinating in fields such as "transportation, foodtech, femtech [technology for women's health and other needs], and cannatech [cannabis-related startups]," said Bargman.
While there do not seem to be any Israeli companies in the making with the potential to scale like Amazon, Facebook or Google, $900 million venture capital firm, Vertex Ventures, has funded some other big winners with a more narrow focus.
For example, as Emanuel Timor, General Partner, pointed out in a May 15 interview, Vertex has backed publicly-traded solar energy electronics supplier, SolarEdge — which sports a $2.6 billion market capitalization on sales of $937 million, up 54% in the last year, and a 14% net profit margin. And Vertex backed anti-vehicle hacking supplier, Argus Cyber Security, was acquired in 2017 for $400 million by German automobile industry supplier, Continental.
Timor sees opportunity in many areas. As he said, "We are investing in cloud platforms, security, big data, digital transformation, automotive, fintech, digital health, and AI."
Attacking Global Markets Through Critical Infrastructure Control
Of all the companies we met, it strikes me that mPrest, a maker of complex control systems used in an array of industries, could become a large company that leads the world.
As a private company, I don't know its revenues or growth rate. But since it has raised $30 million in rounds led by venture capital firm, OurCrowd, and including investments from GE Capital and New Zealand energy utility, Vector, according to CrunchBase.
As I wrote last July, mPrest is best-known for providing key technology for Israel's so-called Iron Dome — a system intended to keep missiles headed to Israel from harming people or property.
I am impressed that mPrest has been able to extend its expertise in such control systems to other industries. As CEO Natan Barak said on May 15, mPrest's technology is used in "border control, critical facilities, water, smart agriculture, connected cars, smart cities, power, and oil and gas." Barak's mantra is "flexibility is the name of the game."
While mPrest has competitors, it often wins against them. As Barak said. "We beat Raytheon and Lockheed Martin for a contract award in the UK. That's because the commercial world is looking for a cloud-based application. Our competitors require customers to take out the old and install the new. Our solution [is better and more cost-effective] because it works on top of what they have already."
mPrest has technical expertise that's useful to many industries around the world. Yet its investors do not venture capital firms — who typically seek rapid growth followed by a quick exit. And Barak was not clear about the company's exit strategy.
OurCrowd expects Mprest to either go public or be acquired due to its growth from fast-growing commercial markets. As CEO Jon Medved said on June 5, "OurCrowd hopes to profit as investors in Mprest as it transitions from a defence solution provider for Iron Dome…to a commercial provider of software for utilities [and] Smart Cities."
If more Israeli startup marathoners such as Shwed emerge, I will be excited to talk with them. In the meantime, it remains to be seen whether the CEOs leading Israel's 2019 crop of IPO candidates will be among them.