In September 2020, Israel, the U.S., the United Arab Emirates, and Bahrain signed the Abraham Accords, normalising relations between Israel and the two Arab nations.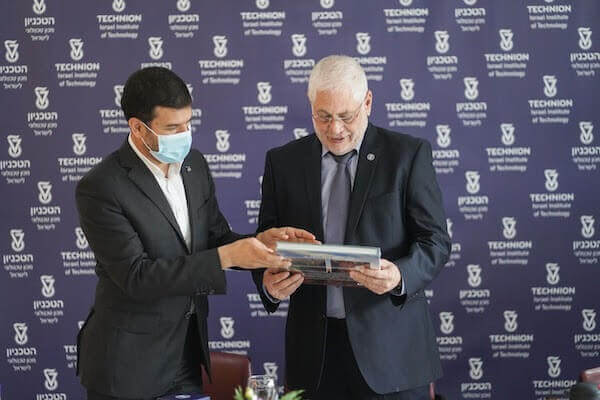 Morocco and Sudan followed suit three months later. Now, the Technion has signed an agreement of academic cooperation with Morocco's Mohammed VI Polytechnic University (UM6P), "reflecting a rapid and dramatic historical change in the region," said Technion President Uri Sivan.
Speaking at a ceremony on the Technion campus in April attended by UM6P President Hicham El Habti and delegations from each university, President Sivan said: "Since the Abraham Accords, we have received delegations from the UAE and Bahrain, countries that none of us ever imagined would come to visit. Both of our institutions – the Technion and UM6P – educate young people and equip them for the future. The cooperation we are establishing here today goes beyond its academic value; it is our duty to the region and the future of the next generation." 
UM6P President El Habti, who studied applied mathematics, economics, and engineering in France, told his Israeli counterparts: "We are part of an historic era, and we must continue to strengthen ties between Morocco and Israel. As a very young university, we are open to international cooperation and are delighted to establish this relationship with you."
The two presidents exchanged gifts: President El Habti gave President Sivan a book on the history of Moroccan Jewry, while President Sivan offered President El Habti a glass engraved with the Technion's insignia. The delegations then visited the David and Janet Polak Visitors Center and the Electron Microscopy Center. Members of the Moroccan delegation also met with individual Technion faculty to discuss research in water engineering, energy, biotechnology, medical engineering, entrepreneurship, and artificial intelligence.
UM6P focuses on applied research and innovation with an emphasis on African development. Established in 2013, it hosts the most powerful supercomputer in Africa, and has expanded rapidly to become a leading research institution for collaborations between Africa and Europe. It has international partnerships include with, among others, the Massachusetts Institute of Technology (MIT), Columbia Business School, the Max Planck Society, the École Polytechnique Fédérale de Lausanne, and McGill University. UM6P prioritizes research and innovation relevant to Morocco and Africa, such as industrialization, food security, sustainable development, mining, and social sciences — many of which are top-priorities in the Technion's curriculum.