Why Israeli research is such a hot ticket worldwide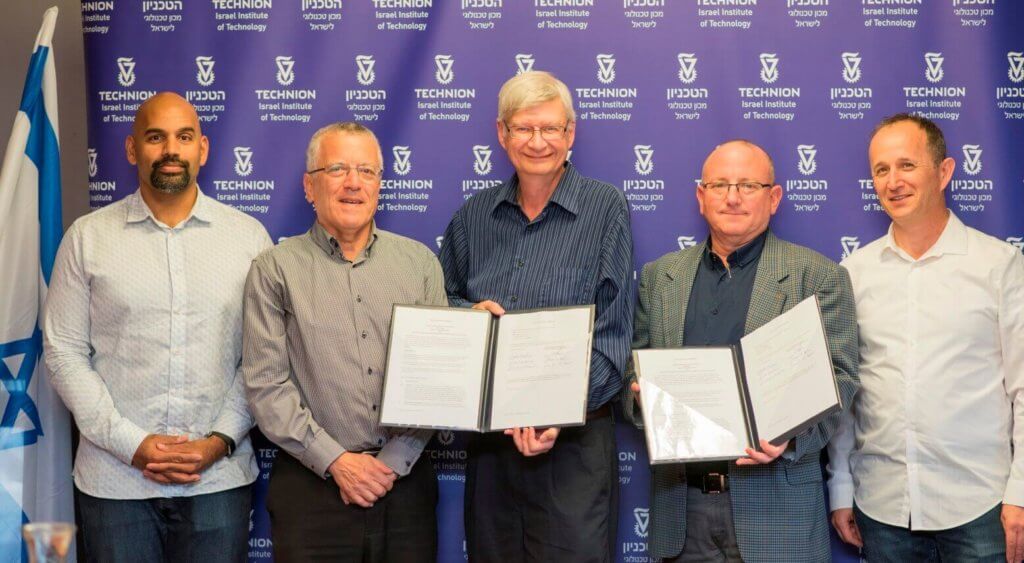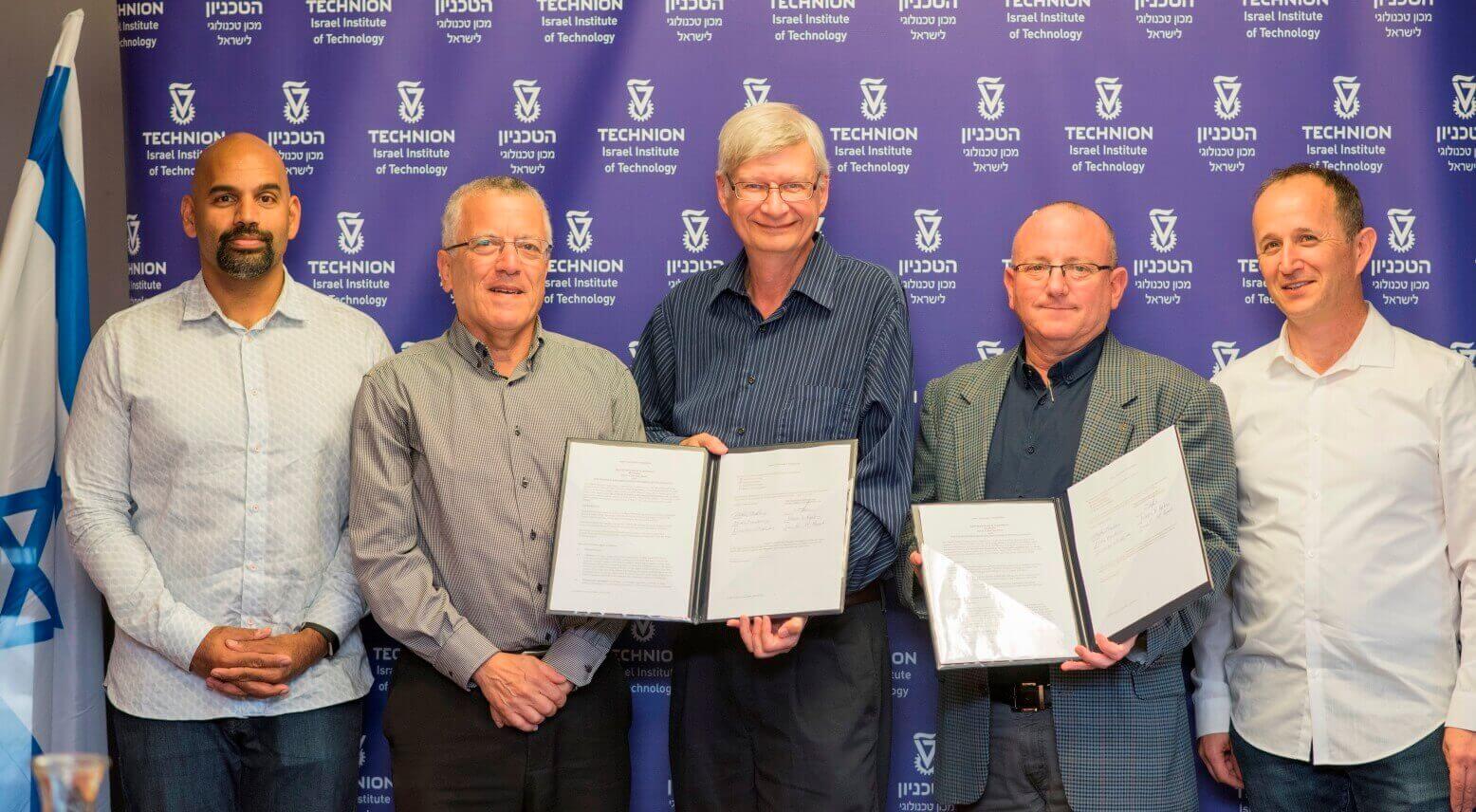 Private and public institutions around the world are jostling to create new collaboration agreements with Israeli research bodies in an effort to mine the country's scientific excellence and innovation.
Article by Abigail Klein Leichman, published on Israel21c on March 31, 2019.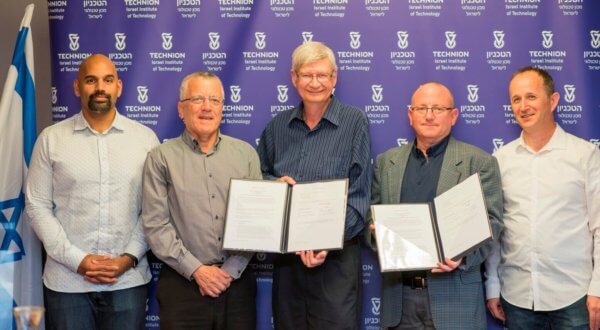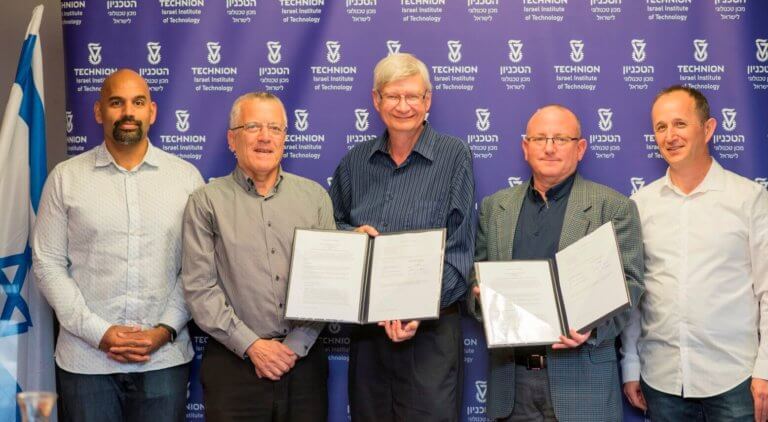 From left at the opening ceremony for the Technion-Intel Center for Artificial Intelligence: Intel VP and GM of the Artificial Intelligence Products Group Naveen G. Rao, Technion VP for External Relations Prof. Boaz Golany, Intel CTO Michael Mayberry, Technion Executive VP for Research Prof. Wayne Kaplan, and Oren Gershon from Intel's Artificial Intelligence Products Group. Photo by Shitzu Photographers/Technion Spokesperson's Office
Research from Israel is driving awesome advances in medicine, healthcare, water management, autonomous vehicles, consumer products, manufacturing, and – well, you name it.
So it's only natural that many international academic, corporate and government bodies are signing collaboration agreements with Israeli research universities and hospitals.
SHARETWEETSHARECOMMENTEMAIL
Research from Israel is driving awesome advances in medicine, healthcare, water management, autonomous vehicles, consumer products, manufacturing, and – well, you name it.
So it's only natural that many international academic, corporate and government bodies are signing collaboration agreements with Israeli research universities and hospitals.
UNCOVER ISRAEL – Get the ISRAEL21c
Weekly Edition free by email Sign Up Now!
Nanotechnology is one of the hot fields of shared interest, for application in everything from cancer drug delivery to finding dark matter in outer space.
Israeli physicist Beena Kalisky from Bar-Ilan University's Institute for Nanotechnology and Advanced Materials (BINA) is leading a team of researchers in France, Italy, the Netherlands, Spain and Sweden in developing a desktop-sized quantum computer.
BINA recently inked research and cooperation deals with the United Nations International Iberian Nanotechnology Laboratory in Portugal; the University of Jyväskylä in Finland; State Key Laboratory for Modification of Chemicals, Fibers & Polymer Materials at Donghua University in Shanghai, and Hanyang University in Seoul.
"Israel offers a combination of good research and good conditions for partners, and that attracts entities to us," says BINA Director Prof. Dror Fixler, also a member of the Bar-Ilan Faculty of Engineering and a new fellow of the International Society for Optics and Photonics (SPIE).
"In order to get big grants for projects, researchers must gather a team of individuals and labs from different places around the globe," Fixler tells ISRAEL21c.
Bilateral agreements signed by the Israeli government with many countries in Europe and Asia over the last 10 years ease the way for researchers in these countries to find partners in Israel when they need collaborators, he explains.
It is internationally acknowledged that there's vast innovation to be mined from Israeli research institutions, says Dr. Rafael Beyar, director of Rambam Health Care Campus in Haifa.
The Georgia Institute of Technology's Global Center for Medical Innovation (GCMI) recently chose Rambam as its partner for a new Biomedical and Digital Health Innovation Center in Atlanta to help Israeli med-tech startups get their products on the US healthcare market.
"Being on the forefront of medical practice on one hand, with tight links to the academic world on the other, and enhanced by the entrepreneurial culture around us, creates many innovations within Israel," Beyar tells ISRAEL21c.
"This is why collaborations with, for example, Atlanta, are so important. [The idea is] to try and generate an easy path to regulatory approval and clinical adoption of leading new innovations that stem from Israel," says Beyar, who is also a professor of medicine and biomedical engineering at the Technion-Israel Institute of Technology in Haifa.
GCMI CEO Tiffany Wilson said Rambam was picked because "Israeli engineering and entrepreneurial expertise regularly translate to medical devices capable of improving patient outcomes while driving the overall cost of care down in many parts of the world, including the United States."
Global healthcare also stands to benefit from joint research projects in the Technion and Intel Corporation's newly inaugurated Center for Artificial Intelligence.
In addition, the center will apply Technion innovations to the task of making better autonomous vehicles, smart environments, and home and industrial robots using natural language processing, deep learning and hardware optimization for learning algorithms.
"The Technion is the leading university in Israel in the field of artificial intelligence and is one of the top 10 universities in the world in the field," said Center for Artificial Intelligence Director Prof. Shie Mannor from the Technion's Faculty of Electrical Engineering.
The Technion and the Weizmann Institute of Science in Rehovot have collaborated on nearly 50 research projects since 2011 with the University of Michigan as part of the Michigan-Israel Partnership for Research and Education program.
The latest projects in this collaboration, funded by $20 million from the D. Dan and Betty Kahn Foundation, are focused on building autonomous robots to assist humans with difficult, repetitive or dangerous jobs; and tools to enhance privacy and accuracy in big-data analytics for precision health.
"In this day and age, international and interdisciplinary collaborations are vital to the future of science and engineering," said Prof. Boaz Golany from the Technion, adding that the research "will benefit people not only in the US and Israel, but worldwide."
In 2018, the Technion was invited to join EuroTech Universities, a group of research-based universities working to translate basic research into societal solutions.
The other consortium members are the Technical University of Denmark, École Polytechnique Fédérale de Lausanne, École Polytechnique, TechniEindhoven University of Technology and Technical University of Munich.
"Technion is a perfect match to join and boost this joint endeavor, given its scientific excellence and vibrant innovation ecosystem," said Jan Mengelers, president of the EuroTech Universities Alliance, established in 2011. "We are pooling our complementary research strengths and connecting our innovation ecosystems for more impact."
"We bring the 'Technion way' of doing things to this partnership: reaching our goals faster and with fewer resources," Technion President Prof. Peretz Lavie said.
"The combination with the great strengths of the other members of the alliance, which comprises an elite group of European universities similar to Technion, will help us ensure we are at the forefront of scientific research, benefiting millions worldwide."
Water, air and healthcare
Many international bodies are thirsty for Israeli expertise in water and health expertise. The past year alone saw significant international activity in these sectors.
Ben-Gurion University of the Negev's Zuckerberg Institute for Water Research agreed to a five-year R&D partnership with the Water Institute of the Gulf in Baton Rouge, Louisiana – America's first international water research center — for joint projects to improve groundwater, farming, drinking water aquifer utilization, surface water and streams.
Justin R. Ehrenwerth, president and CEO of the Water Institute of the Gulf, said, "Our future generations depend on finding and developing the best possible science. And BGU has done a lot of that. You've made the desert bloom. You've taught the world that water challenges can be solved."
On March 31, the joint German-Israeli aeroHEALTH Helmholtz International Lab opened on the Rehovot campus of the Weizmann Institute of Science to research the effects of atmospheric aerosols on human health. The lab was developed by scientists from Weizmann, Helmholtz Zentrum München, and Forschungszentrum and is to run initially for five years.
Biomedicine, neuroscience and environmental sciences are the focus of the new Joint Translational Science and Technology Research Institute recently launched in Shanghai's Zizhu International Education Park in cooperation with the University of Haifa and East China Normal University.
"We believe that our cooperation with ECNU will lead to groundbreaking studies in applied science, biostatistics, brain research, behavioral research and more," said Prof. Ron Robin, president of the University of Haifa.
The Regional Alcohol and Drug Abuse Research (RADAR) Center of Ben-Gurion University — recognized by the US National Institute on Drug Abuse for its "contributions to scientific diplomacy through outstanding efforts in international collaborative research" – recently signed a memorandum of understanding with the University of Colorado – Anschutz Medical Campus to promote substance-use research, education, training and exchange.
RADAR works with international governmental agencies including the US Substance Abuse Mental Health Services Administration, US Agency for International Development (USAID), United Nations Office on Drugs and Crime, UN Interregional Crime and Justice Research Initiative, and universities worldwide.
RADAR is starting collaborations with the University of Malta, Chiang Mai University, and universities in Moscow, St. Petersburg and Vladivostok to study attitudes, beliefs and knowledge among medical and allied healthcare students regarding medical cannabis.
The Weizmann Institute of Science and Institut Curie in Paris recently signed an historic partnership to work closely together to improve knowledge in the life sciences, particularly in physics, chemistry and cancer research.
Innovation and entrepreneurship
Israel is, of course, famous for its startup smarts, and some recent academic partnerships leverage that expertise.
IBM's Alpha Zone partnered with Hadassah University Medical Center of Jerusalem to establish an accelerator for post-seed Israeli startups developing deep-tech solutions and services in digital medicine.
Tel Aviv University was chosen as the only foreign founding partner of a new innovation and entrepreneurship hub in Chicago focusing on research, education and startup creation in the fields of cybersecurity, artificial intelligence, big data and food security.
Tel Aviv University and Yissum, the tech-transfer company of the Hebrew University of Jerusalem, are partners with the University of Illinois, University of Chicago and Northwestern University in the new $500 million Discovery Partners Institute, supported by the State of Illinois and the city of Chicago.
Discovery Partners Institute will facilitate academic and industry collaboration, with the initial focus on entrepreneurship, biosciences, computer science including AI, big data and cybersecurity, as well as food and agricultural technologies.
Yissum also is opening centers of international cooperation in Asunción (Paraguay) and Shenzhen (China) to facilitate regional commercialization of early-stage technologies coming out of the university's research labs. Yissum CEO and President Yaron Daniely said additional international centers of cooperation are in the pipeline.