US Medtech Manufacturer Buys Israeli Sleep Device Firm Itamar Medical For $538M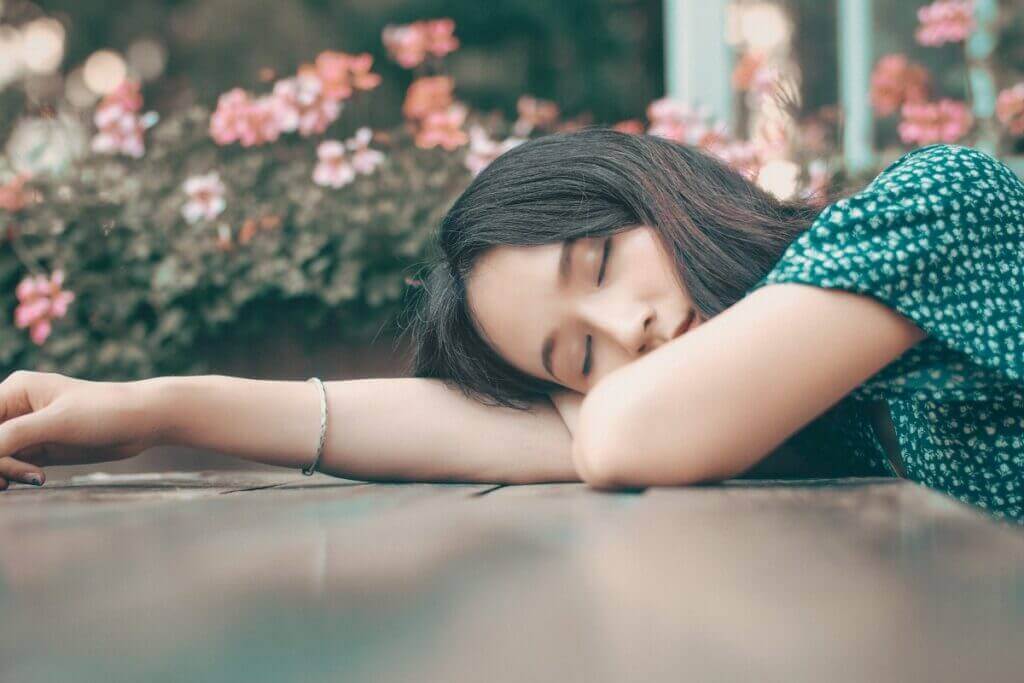 Israel's Itamar Medical, a medtech firm that produces devices to aid the diagnosis of sleep disorders, announced on Monday that it has signed a deal to be acquired by Zoll Medical for a total value of about $538 million.
Zoll Medical will acquire all outstanding shares of Itamar Medical for $31 per ADS (American Depository Share,) or $1.03 (equivalent to approximately NIS 3.31) per ordinary share, in cash. The offer of $31 per ADS in cash represents a 50.2 percent premium over the price of Itamar Medical's ADS on Nasdaq this past Friday.
Since news of the acquisition broke, Itamar Medical's stockhas has surged, spiking more than 43 percent in pre-market session.
Zoll Medical is an international medical devices manufacturer that develops products and software solutions focused on improving outcomes with novel resuscitation and acute critical care.
US sleep apnea diagnostic and treatment firm Lofta partnered with Itamar Medical to integrate the company's diagnostic tool into its process.
Founded in 1997 by Giora Yaron, now , Itamar Medical is focused on the development and commercialization of non-invasive medical devices and solutions to aid the diagnostics of respiratory sleep disorders.
Itamar Medical developed the WatchPAT Home Sleep Apnea Device, a sleep diagnosis program for patients and healthcare professionals. The company's WatchPAT One device is cleared by the FDA and is recognized as a safe and effective method for home-based testing for sleep apnea.
 "The integration of Itamar's WatchPAT technology and Digital Health solution for sleep apnea with Zoll Medical's commercial footprint will accelerate our mission of advancing home sleep medicine to benefit the population of undiagnosed and untreated patients," said Gilad Glick, president and Chief Executive Officer of Itamar Medical.
"Zoll Medical is committed to improving outcomes for underserved patients suffering from serious cardiopulmonary conditions," said Jon Rennert, CEO of Zoll Medical. "It is currently estimated that 60% of cardiovascular patients suffer from some form of sleep apnea, and the majority of these patients go undiagnosed. The combination of ZOLL Medical and Itamar Medical will help more patients receive diagnosis and treatment for sleep-disordered breathing. We look forward to helping strengthen the collaboration between the worlds of cardiology and sleep medicine."
Zoll Medical expects the acquisition to close by the end of 2021, subject to approval by the shareholders of Itamar Medical, regulatory approvals, and other customary closing conditions.
Sleep diagnostics at home
While most of Itamar Medical's diagnostic devices were used by cardiologists and other specialists in sleep laboratories, the onset of the COVID-19 pandemic meant that the company's emphasis shifted to home diagnostic kits. Toward the start of the pandemic when little was known about who it predominantly affected and why, patients suffering from all kinds of ailments – including sleep apnea – would be reticent about going to hospitals to fulfil appointments. Meanwhile, the stresses of working from home, potential loss of income and the need to homeschool children, likely increased the onset of sleep apnea, requiring an at-home solution.
The company's revolutionary WatchPAT system, an easy-to-use, accurate, Home Sleep Apnea Test (HSAT) and sleep study device continues to remain reliable for this very reason. The WatchPAT was designed with patient use in mind for "in-home" sleep apnea testing in the comfort of one's own bedroom, the company has said. This environment is more representative of one's personal sleep habits.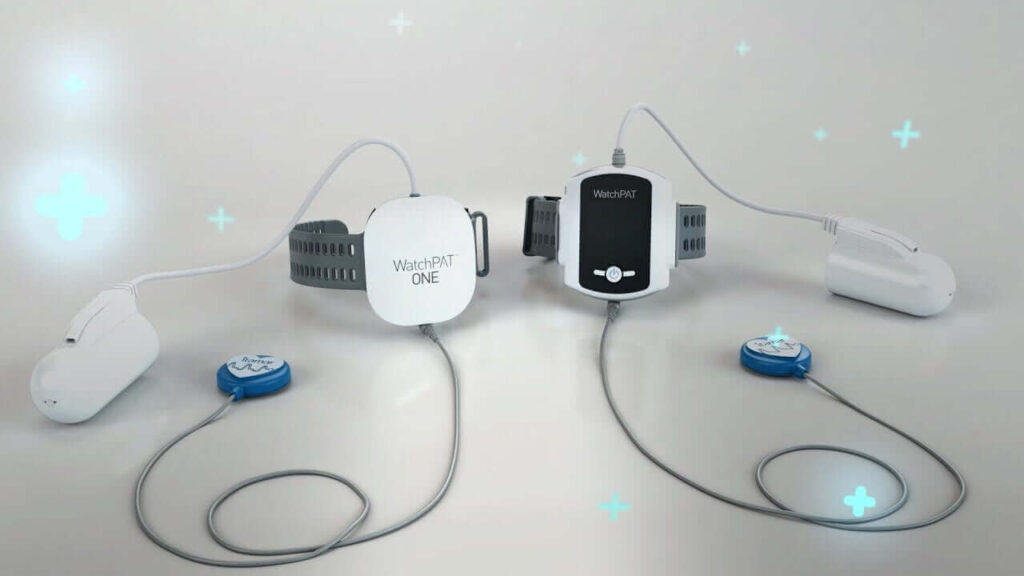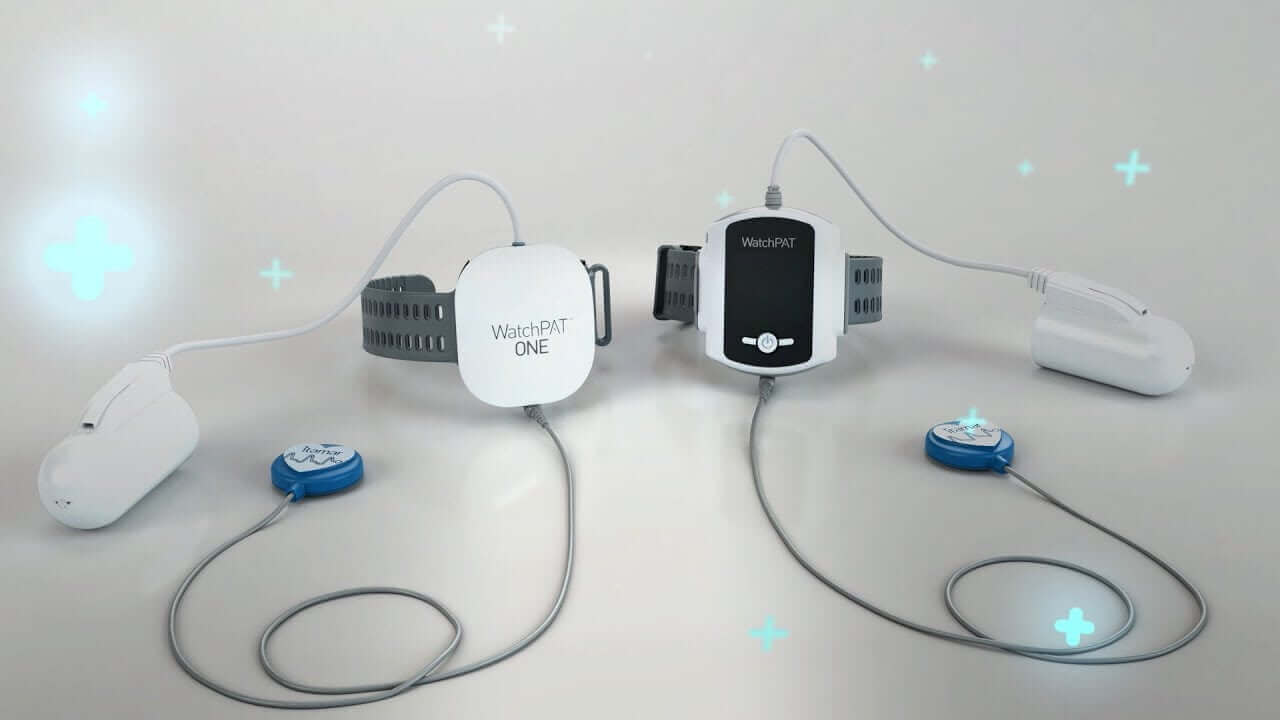 The WatchPAT system attaches to a user's index finger, chest and wrist to record vital measurements that are used to identify events of sleep apnea. It measures peripheral arterial (PAT) signal, heart rate, oximetry (a non-invasive way of monitoring a person's oxygen saturation) , actigraphy (a non-invasive method of monitoring human rest/activity cycles), body position, snoring and chest motion.
The device is connected to the smartphone. Prior to sleep, patients can pair the wearable device to their phone. A smartphone app transmits the WatchPAT One's data from seven channels to the cloud. Once the study is compelted, data can be sent to a clinician for review.
One of the most unique aspects of the device is that it is disposable. That means once a patient has slept with the device, they can dispose of it rather than needing to send it back or manually download data.
In 2016, Itamar Medical received FDA clearance to expand the medical indication of WatchPAT for sleep apnea diagnosis. Under that approval, the use of WatchPAT in the USA was permitted from the age of 12, expanding the previous indication for ages 17 and older.
At the time – and the problem could be increasingly acute now – the incidence of sleep apnea in adolescents reached alarming rates. It was attributed, among other comorbidities such as the increase of obesity in this age group. Additional factors could also include Attention Deficit Hyperactivity Disorder (ADHD), in which patients would likely not receive the appropriate medical care as long as the underlying sleep apnea remained undiagnosed and untreated.
The sleep apnea market is a growing one, predicted to expand to some $9.9 billion by 2026. Indeed, the highest compound annual growth rate is expected to occur in the home-based individuals' segment, in part driven by an increasing personal awareness of the health benefits associated with resolving sleep apnea issues.