Technion signs historic agreement with Moroccan university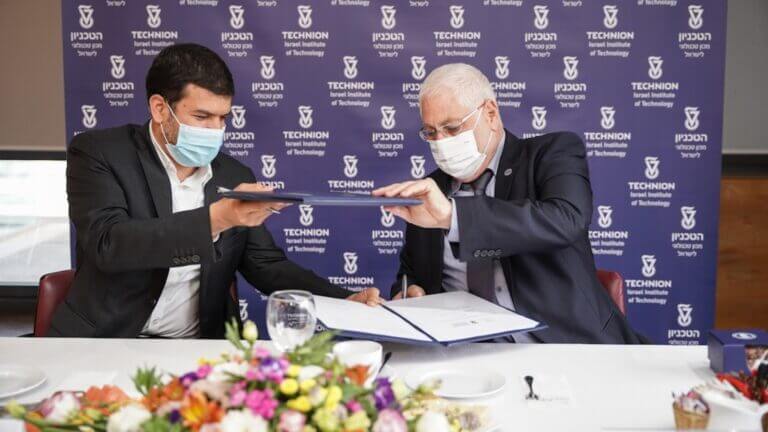 Document of academic cooperation is a first of its kind, signaling a new era of innovative partnership between the two institutions.
Israel's Technion-Israel Institute of Technology and Morocco's Mohammed VI Polytechnic University (UM6P) signed a document of academic cooperation in a ceremony at Technion's Haifa campus on March 31, a first for both institutions.
UM6P focuses on applied research and innovation with an emphasis on African development.
The document was signed by UM6P President Hicham El Habti and Technion's president, Prof. Uri Sivan, senior vice president, Prof. Oded Rabinovitch, and vice president of research, Prof. Koby Rubinstein.
Evoking the reestablishment of diplomatic ties between Israel and Morocco in December 2020, Sivan addressed the Moroccan delegation with a message of mutual cooperation.
"Since the Abraham Accords, we have received delegations from the UAE and Bahrain, countries that none of us ever imagined would come to visit. Both of our institutions – the Technion and UM6P – educate young people and equip them for the future. The cooperation we are establishing here today goes beyond its academic value; it is our duty to the region and the future of the next generation."
El Habti told his Israeli counterparts, "We are part of an historic era, and we must continue to strengthen ties between Morocco and Israel. As a very young university, we are open to international cooperation and are delighted to establish this relationship with you."
El Habti gave Sivan a book on the history of Moroccan Jewry, and Sivan gave El Habti a glass engraved with Technion's insignia.
After the ceremony, the delegation toured the campus followed by meetings between the Moroccan delegation and Technion faculty with the hopes of building research collaborations in areas including water engineering, energy, biotechnology and food engineering, biomedical engineering, entrepreneurship, and artificial intelligence.