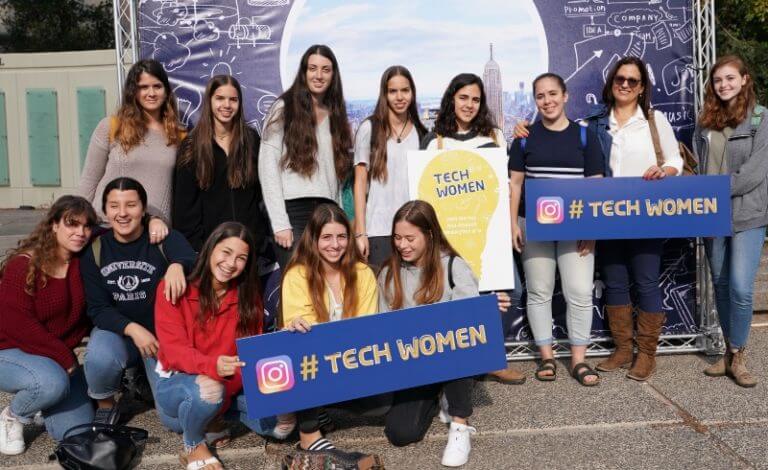 800 High School Students participated in the annual Tech Women event at Technion
Tech Women encourages outstanding female students to continue their academic studies in science & engineering
[L-R] Rosalyn August, Donor of the GEM Initiative, Prof. Marcelle Machluf, Dean of the Faculty of Biotechnology and Food Engineering
From Kiryat Shmona to Beer Sheva, Ashdod, and the Golan Heights, over 800 outstanding female high school students from all over Israel attended the Tech Women 2018 event (21st November 2018), hosted by Technion to encourage outstanding female pupils to opt for science and engineering in their academic careers. This 4th annual event was made possible through the generosity of the Rosalyn August GEM Initiative.
In honor of the event, Rosalyn August arrived at Technion with her eldest granddaughter, Lauren. Rosalyn was born in a small town in Virginia, USA. The daughter of immigrant parents who opened a small jewelry shop which in time turned into a prosperous business. As a young woman growing up during the '60s, Rosalyn felt a dissonance between what she wanted to become and what society at large, and her own family, in particular, felt suitable for her.
Rosalyn shared with the students that her acquaintance with Technion began a decade ago.  She felt an instant bond with the quiet, underplayed vibe of the place. "There are many fields worthy of a donation, yet I chose Technion," Rosalyn said. "Even though I don't know much about technology, it is clear to me that technology is our future and it is our duty to help integrate women into this field. Trust yourselves, find what you love and love what you do."
All of the students who were invited to participate in the event study mathematics and other science and technology related subjects, at the highest level of accreditation. During the event, they met with female researchers, faculty, and graduate students. They visited the laboratories and heard about the various fields of research and study.
Rosalyn August [center] with Dr Adi Hanuka and PhD graduate Sara Nagosa
When Technion was opened in 1924, female students comprised 6% of the student population, a ratio of 1 to 17. Gradually, and especially during the past decade, the number of female students at Technion has grown considerably, and today they account for 40% of the student population.
The students attended lectures and visited the labs of 10 engineering and science faculties:  Andrew and Erna Viterbi Faculty of Electrical Engineering, Computer Science, Biotechnology and Food Engineering, Mechanical Engineering, Aerospace Engineering, Materials Science and Engineering, Physics, Mathematics, the Schulich Faculty of Chemistry and the William Davidson Faculty of Industrial Engineering and Management.
In her opening remarks, Prof. Marcelle Machluf, Dean of the Faculty of Biotechnology and Food Engineering said, "I have always had to prove myself and being the only woman in the room drives me even further in doing so. Women are the future and I encourage each and every one of you to come and study at the Technion. You all have talent and the ability to succeed, with or without affirmative action."
Dr. Efrat Sabach who completed her doctoral thesis at Technion's Faculty of Physics, said,  "When I said that I wanted to study physics I was told that I would be the only girl among many boys but that didn't scare me, I always asked questions and I was always given a legitimacy for these questions."
With regards to her thesis, under the guidance of Prof. Noam Soker, Dr. Sabach said, "I am an astrophysicist who studies processes in space and even though I am the only woman in my research team I have never felt unequal to the others."
Students attending the Tech Women 2018 event
Sara Nagosa, a Ph.D. student at the Ruth and Bruce Rappaport Faculty of Medicine said that she chose Technion because she wanted to study at the best academic institute. "At first I was scared, but then I understood that if I don't try I will never know if I am capable and that is how I made it to today, the final year of my doctoral thesis. Technion gave me more than knowledge, it provided me with determination, perseverance, and tools for life."
When you think of electrical engineers you probably do not have me in mind, but here I am, a woman with a doctoral degree, at the Andrew and Erna Viterbi Faculty of Electrical Engineering, said Dr. Adi Hanuka.
Dr. Hanuka told the students about the two projects which she has been leading over the past years: the first, a miniature particle accelerator intended for use in X-ray and radiation equipment and the second, an Eyelid Motion Monitor (EMM) for diagnosing various diseases.
During my doctoral thesis, I traveled to the USA to continue my studies at Stanford University. The people in my research team were surprised that I was female, and someone even pointed out that girls are not supposed to study electrical engineering but rather psychology or economics. This leads me to say that it is not enough to strengthen only the girls and relay to them how capable they are, but also to 'educate' boys in a way that will make them see that girls do not fall short with regards to talent and ability."
Article originally published on Technion.ac.il