New handlebar device protects cyclists and scooter riders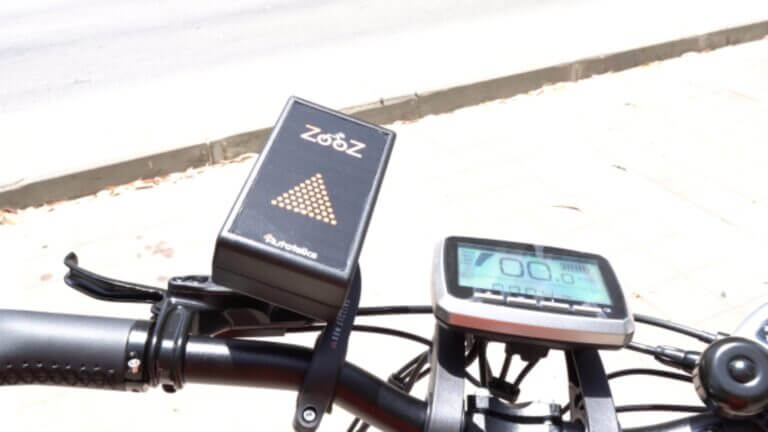 Wireless V2X technology developed in Israel alerts motorists and two-wheel vehicle riders to each other's presence.
An affordable device that alerts cyclists and scooter riders to the danger of unseen motorists could prevent many accidents globally, says Israel-based Autotalks.
The company uses V2X (vehicle-to-everything) technology to connect two-wheelers with other road users and warn them of each other's presence.
The device, called ZooZ 2, gives a visual warning to two-wheel riders if a vehicle is approaching an intersection and could hit them. It also alerts them to drivers indicating a right turn who may be in their blind spot, and cars that jump a red light.
Drivers who have the device are likewise alerted to the two-wheeler. ZooZ 2 uses wireless technology so it can reliably detect two-wheelers even if the line of sight is obstructed.
The company says three quarters of bike and scooter accidents are caused by drivers failing to notice the two-wheeler – and it's almost always the two-wheeler that comes off worse.
"Autotalks regards all road accidents as preventable, and those accidents involving bikes and scooters deserve special attention," said founder and CTO Onn Haran.
"We're committed to making our new micromobility safety device available immediately in order to save the lives of two-wheeler riders around the globe."
Cyclists and scooter riders fit the device to their handlebars at a cost of $50 to $100 or it can come integrated on high-end models. ZooZ 2 currently communicates only with the 10% of cars that are V2X-enabled, but the technology is to be included in most new vehicles launched in 2025/26.
The first version of the ZooZ micromobility device was launched in September 2021. Autotalks says the updated version is undergoing validation tests by four manufacturers of bikes or their components, and by two vehicle manufacturers.
Autotalks showcased the ZooZ 2 device last week at the Velo-City Conference, the world cycling summit, in Ljubljana, Slovenia.
The plug-and-play device uses software provided by US-based V2X specialist Commsignia and has been tested successfully by the European consortium Project SECUR (Safety Enhancement through Connected Users on the Road).
Autotalks has already produced similar technology for motorcycles and says the first motorcycle manufacturer will incorporate it into mass-produced models in Europe in 2024.