2019 Blavatnik Awards for Young Scientists in Israel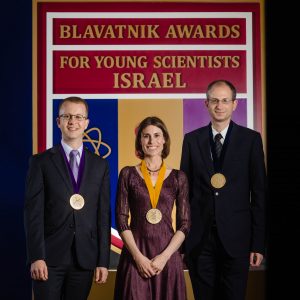 Three researchers, from the Technion–Israel Institute of Technology and Weizmann Institute of Science, will each be awarded $100,000, one of the largest unrestricted prizes ever created for early-career researchers in Israel.
Article by Israil Institute of Technology, published on Technion.ac.il on April 8, 2019.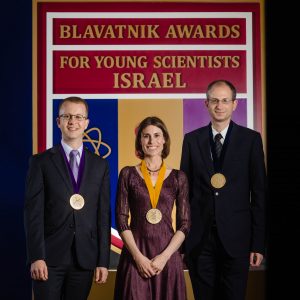 (l-r) Associate Professor Moran Bercovici, of the Technion, Drs. Michal Rivlin and Erez Berg of the Weizmann Institute of Science. (Photo courtesy of Israil Institute of Technology)
HAIFA, ISRAEL (April 8, 2019) – Associate Professor Moran Bercovici, of the Technion Faculty of Mechanical Engineering, is one of three Blavatnik Award for Young Scientists in Israel Laureates for 2019. The honor, bestowed by the Blavatnik Family Foundation, New York Academy of Sciences, and Israel Academy of Sciences and Humanities (IASH), was announced in Jerusalem on Sunday, April 7. Also awarded were Drs. Michal Rivlin and Erez Berg of the Weizmann Institute of Science.
The Blavatnik Awards recognize outstanding, innovative early-career scientists and engineers for both their extraordinary achievements and promise for future discoveries. The prizes are awarded to promising scientists and engineers aged 42 and younger for breakthrough research in the disciplines of chemistry, life sciences, and physical sciences and engineering.
In 2019, 33 nominations were received from seven universities Israeli universities. Members of the Awards' Scientific Advisory Council, including IASH President Professor Nili Cohen; Co-chair and Nobel Prize Laureate Distinguished Professor Aaron Ciechanover; and President and Chief Executive Officer of the New York Academy of Sciences Mr. Ellis Rubinstein were also invited to submit nominations. A distinguished jury of leading senior scientists and engineers from throughout the country selected the laureates.
Prof. Bercovici (36) was selected for his innovative research in microfluidics, contributing to fundamental understanding of the chemical and physical behavior of fluids at extremely small scales, as well as to the invention of cutting-edge technologies in this field. His highly multidisciplinary research, which couples fluid mechanics, electric fields, heat transfer, chemical reactions, and biology, has the potential to not only miniaturize existing large-scale processes but also to create new capabilities that are not possible at large scale. For example, Dr. Bercovici and his team at Technion have developed a series of lab-on-a-chip technologies that significantly shorten the time and improve the sensitivity of traditional molecular analysis techniques, enabling rapid and early disease diagnostics and offering new research tools to scientists. Innovations coming from his lab also have potential use in many other fields, including soft actuators, adaptive optics, single cell analysis, and microscale 3D printing.
The Laureates will join more than 250 of their peers as fellow members of the Blavatnik Science Scholars community. They will also be invited to attend the annual Blavatnik Science Symposium each summer in New York City, where members come together to collaborate on cross-disciplinary research and share new ideas.