Sometimes dismissed as merely a severe headache, migraines are officially classed as one of the most common debilitating conditions in the world.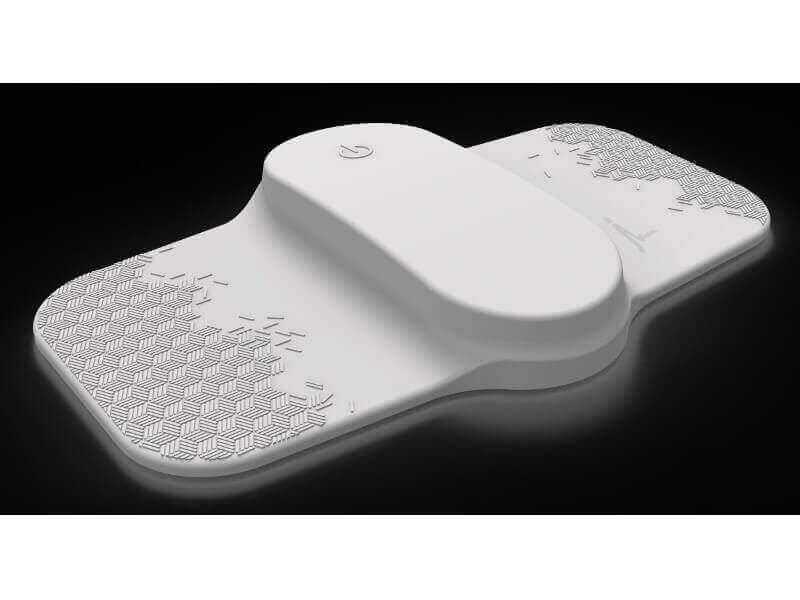 Nerivio Migra® is a smartphone-controlled neurostimulation device indicated to treat acute migraines. Image courtesy of Theranica Bioelectronics.
Regarded by some sources as the third most common disease in the world – ahead of illnessessuch as asthma and diabetes – migraines also have a significant impact on the individual and society. Most sufferers are unable to work during an attack, which in turn has a knock-on effect on the wider economy.
A new, award-winning device from Israel may be about to transform this situation.
Theranica is a Netanya-based company that specialises in wearable therapeutic devices that aim to alleviate pain without the need for drugs or medication. One such product is Nerivio – a grey strap-like device that is wrapped around the upper arm. According to Theranica, Nerivio stimulates the nerves in that area which in turn inhibits pain elsewhere.
According to Theranica, this method results in over two-thirds of Nerivio users experiencing less discomfort during a migraine attack – with some users now living completely migraine-free. This impact was recognised when Nerivio recently won the 'Best New Technology Solution' award in the 'Pain Management' category at the prestigious MedTech Breakthrough Awards programme.
Nerivio was developed with research and guidance fromProfessor David Yarnitsky, the head of the Neurology Department at the Technion – the Israel Institute of Technology. With Yatnitsky on the medical advisory board of Theranica, Nerivio represents another significant contribution by the Israeli university.
Since 1912, the academic institution has been at the forefront of spearheading Israel's scientific endeavours. Israel today is the country with the highest percentage of scientists and engineers – and the majority of them studied at the Technion, home to three of Israel's five science Nobel Laureates.
Alan Aziz, CEO of Technion UK, commented: "For too long migraines have represented a serious medical headache, being both incredibly painful and surprisingly common. By drawing on the expertise of the Technion, however, Nerivio could help keep future migraines at arm's length."
About The Technion:
The Technion has earned a global reputation for its pioneering work in nanotechnology, life sciences, stem-cell technology, water management, sustainable energy, information technology, biotechnology, materials engineering and aerospace. It is also one of only five similar institutes worldwide that include a medical school, encouraging rapid progress in biotechnology, drug development, and stem-cell technology. As Israel's centre for high-tech education and research, the Technion is central to the nation's economic progress. As the premier institute of its kind in the region, Technion breakthroughs can benefit all the nations of the Middle East. As a worldclass research university, the Technion helps advance the frontiers of science and technology to benefit people around the world.