Israeli startup's precision robots poised to transform brain surgery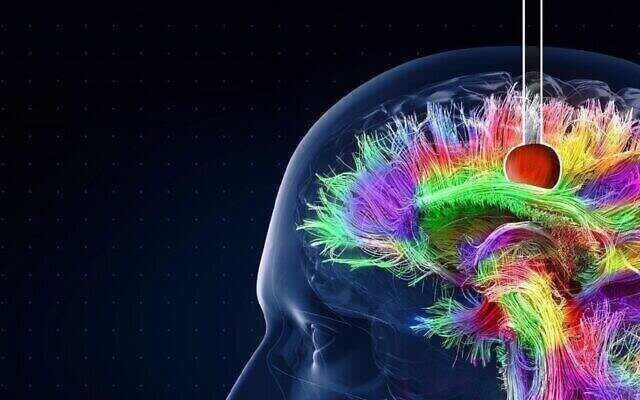 Prof. Moshe Shoham, founder of Mazor Robotics, acquired for $1.64 billion, will speak about his new company Tamar Robotics on Monday, April 12
Article published at Times of Israel on April 8, 2021.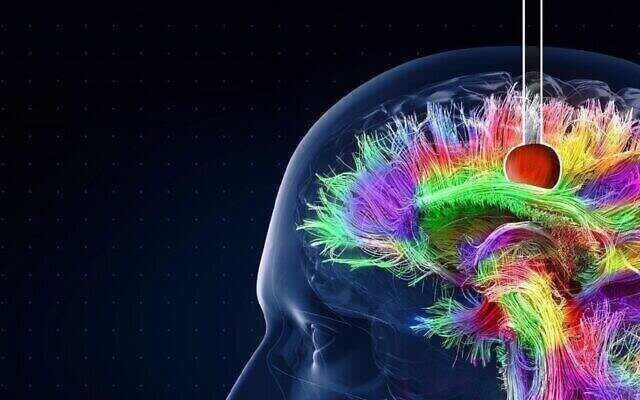 Every year, doctors diagnose millions of people with tumors, blood clots and other masses in their brains. In each case, doctors must weigh the benefits of surgery against possible long-term neurological damage.
"Imagine having to decide between removing someone's tumor to give them more time to live, but in the process of that they lose their ability to speak," says Prof. Moshe Shoham, a professor at the Technion-Israel Institute of Technology and a serial entrepreneur. "Which is really the better choice?"
To reduce dilemmas like this and shorten recovery times, Shoham's latest startup, Tamar Robotics, is developing a surgical robot that aims to revolutionize brain surgery, finally giving doctors a safer, minimally invasive tool to remove tumors and blood clots and treat other life-threatening brain conditions that now require major surgery. "We hope we will be able to let the people suffering from these conditions get back to their lives," Shoham says. "We believe that our robotic system can do this better than a surgeon's free hand."
Prof. Shoham, a global pioneer in the field, established the Kahn Medical Robotics Laboratory at the Technion, from which a string of groundbreaking and successful startups have emerged to help change the practice of modern medicine.
Companies founded or co-founded by Prof. Shoham include Mazor Robotics, a surgical robotic startup acquired by Medtronic for $1.64 billion in 2018; Diagnostic Robotics, an artificial intelligence-based triage and clinical predictions platform; and Microbot Medical, a Nasdaq-traded company.
Prof. Shoham will discuss his work and the plans for Tamar Robotics in an online event on Monday, April 12 hosted by Technion Canada and OurCrowd, the Jerusalem-based investment platform.
Tamar Robotics, based at Kibbutz Yagur near Haifa, is part of the growing field of robotic surgery, in which tiny instruments inserted through small incisions perform procedures inside the human body, often also guided by imaging and sensing technology. The technique allows for more accurate and less invasive procedures, reducing patient recovery time.
The market for surgical robots is growing by 11.4% a year and is expected to be worth $9.5 trillion by 2026, according to market research firm Mordor Intelligence. With costs falling, robotic systems are expected to become much more common in numerous types of operations, according to Mordor.
Tamar Robotics is among the first such systems being developed for brain surgery. The company began when Dr. Hadas Ziso, its co-founder and Shoham's former graduate student at the Technion, began examining ways to make brain surgery safer.
"In brain surgery there is always the fear of damaging the surrounding healthy tissue, which can result in things like people losing their ability to talk or walk," Shoham says. "So surgeons are always weighing whether they should operate or not operate, and it's not easy."
Ziso and Shoham worked for five years developing a tiny robot that could target and remove tumors and other masses from the brain while leaving healthy tissue alone, and founded Tamar Robotics to bring the system to market.
The technology, currently being tested in large animals like pigs, consists of a tiny, moving robotic needle that shoots out jets of water to destroy tumors and blood clots in the brain. The needle is inserted through a small incision in the head and surgeons then control it remotely, assisted by imaging software.
"It has sufficient freedom to tackle and treat complex tumor or blood clot shapes in challenging locations within the brain," says CEO Noam Hassidov, explaining that the tool also includes a suction mechanism that quickly removes and evacuates the destroyed tissue. Surgeons can map out a "fly-zone," where the needle will destroy blood clots or tumor cells, and a "no-fly zone," where the needle will not touch or damage healthy brain tissue.
"By design, this mechanism is extremely precise," Hassidov says.
An integrated ultrasound providing constant scanning helps guide the needle in real time. This is important because the brain constantly moves during surgery as areas of tissue are removed, making it difficult to rely on pre-operative images from MRIs and other scans.
"This way, the physician can look all around and can see right away if something moves in the brain," Hassidov says. "We can know exactly where the target mass is at all times."
It also measures pressure inside the skull, making sure it does not rise to dangerous levels, which can cause neurological damage.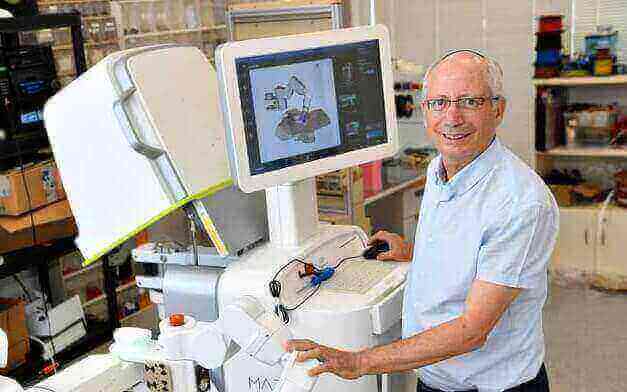 Prof. Moshe Shoham with the Mazor Robotics system, which was sold to Medtronic for $1.64 billion (Courtesy)
One of the main obstacles in using robotics for brain surgery is the need to develop better imaging technology to help guide robotic equipment inside the brains of patients, says Alfredo Quinones-Hinojosa, chair of the department of neurological surgery at the Mayo Clinic's campus in Jacksonville, Florida, who has no connection to Tamar Robotics.
"Just as robotic technology is used to perform abdominal surgery, in the near future it will most likely be used to perform minimally invasive brain surgery," Dr. Quinones-Hinojosa says. "Robots will allow us to venture deep into the brain through very small incisions."
"The biggest challenge right now is the fact that our equipment is difficult to maneuver through small spaces," he says.
The company is in the advanced stages of testing the system on animals. Professionals in the surgical field have said they are excited about its potential use in humans in the near future.
Tamar plans to first start human trials in patients suffering from intracranial hemorrhage, or bleeding inside the brain, an acute condition that requires emergency surgery to release pressure that builds up inside the brain and threatens long-term neurological damage.
Looking back to 2001, when he founded Mazor Robotics, one of the first companies to offer robotic systems for spinal surgery, Shoham says he expects uptake of this new tool to be quick once it is approved.
"Now surgeons are more open to robotic tools than back then," he says. "It is now clear that if we have better and sharper tools, we can do much better and save more lives."