Israeli Biotech Startup CytoReason Teams Up With Swiss Pharma Firm Ferring For IBD Drugs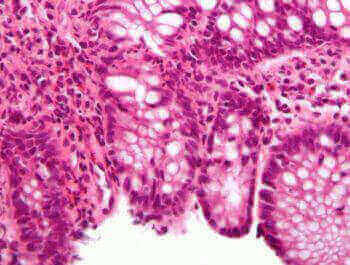 A high magnification micrograph of cryptitis in a case of Crohn's disease.
Article published at www.nocamels.com on May 2, 2021.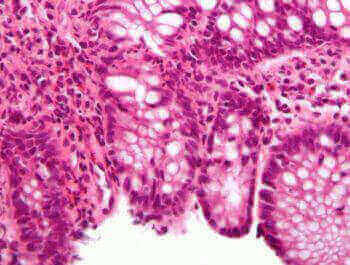 Israeli biotech company CytoReason, the developer of a computational model of the human body for faster drug discovery and development, announced a new collaboration this month with Swiss biopharmaceutical company Ferring Pharmaceuticals to establish new treatment options for patients with inflammatory bowel disease (IBD). Based in Saint-Prex, Ferring specializes in areas such as reproductive health, maternal health, gastroenterology and urology.
IBD is a chronic disease that affects the digestive system and includes Crohn's disease and ulcerative colitis. Symptoms include abdominal pain, rectal bleeding, fatigue, and weight loss. Bouts can last for days, weeks, or sometimes months at a time.
CytoReason said in a statement that it intends to present insights on the top drug targets to provide new therapeutic options for IBD patients.
Founded in 2016 by scientists and researchers from the Technion and Stanford, CytoReason built what it has called the world's first machine learning platform that can quantify a person's immune system at a cellular level to better understand disease responses and treatments, and facilitate the discovery and development of more effective drugs. The simulations are applicable to cancer immunotherapy, and autoimmune, neurodegenerative and infectious disease research.
"If you look at the human body, everyone is made up of the same organs," CytoReason co-founder and CEO David Harel told NoCamels in 2019. "And every organ is made up of the same tissue. And every tissue is made up of the same cells, which are then made up of the same proteins, which are influenced by genes. Of course, the types of cells and the proportions differ and change, but in principle, it's all the same. What we are doing at CytoReason is trying to build a computational model of human tissue, to then support clinical trials of new pharmaceuticals. That is huge!
CytoReason says its computational model of the human body simulates human disease on a cellular level, minimizes the need for animal trials, and makes human trials more focused and accurate over time. With its proprietary database and AI-led platform, pharmaceutical and biotech companies can make data-driven decisions in a fraction of the time and cost, the company indicated.
"We are very excited to be working with the talented team at Ferring," said Harel in a company statement ."Their expertise in gastroenterology, immunology and translational medicine will allow us to better understand the complex nature of IBD, and in turn, to create more accurate models of the disease with our AI technology. Our platform will enable Ferring to significantly shorten drug discovery time for IBD medication, dramatically reduce the costs involved, and ultimately help more patients who suffer from the chronic disease."
CytoReason is already working with some of the world's top 10 pharmaceutical companies including US-based multinational Pfizer, British multinational GlaxoSmithKline (gsk), and Roche, another Swiss multinational.